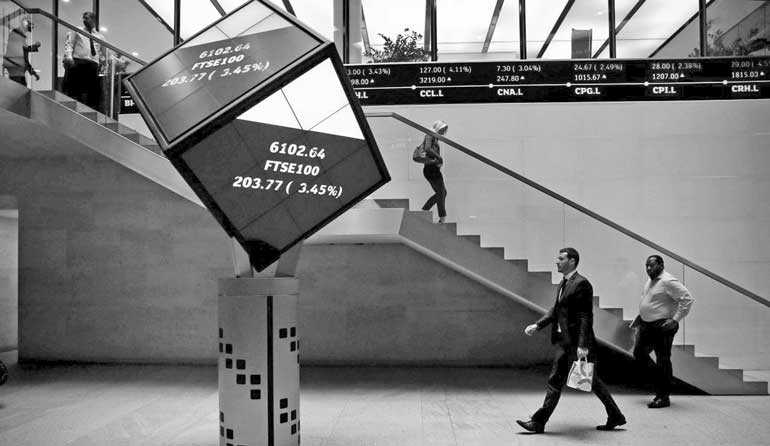 People walk through the lobby of the London Stock Exchange in London, Britain - REUTERS
LONDON (Reuters): Global stocks fell for a second day on Friday as a report that U.S. President Donald Trump was preparing to step up a trade war with Beijing dampened risk appetite and erased some of the gains made in a rally this week.

Bloomberg News reported on Thursday that Trump is ready to impose tariffs on $200 billion more in Chinese imports as soon as a public comment period on the plan ends next week.

European shares tumbled for a second straight day, with the pan-European STOXX index opening over half a% lower.

Trade sparring between Trump and the European Union weighed on car stocks, down 1.5% and the worst-performing sector.

Trump also threatened in an interview with Bloomberg on Thursday to withdraw from the World Trade Organization if "they don't shape up" — a move that would further undermine one of the foundations of the modern global trading system.

Earlier in Asia, MSCI's broadest index of Asia-Pacific shares outside Japan dropped 0.6%, set for a monthly drop of 1.5%.

The index has underperformed the MSCI All-Country World Index (ACWI),, a gauge of the world's 47 markets, for four months in a row as Sino-U.S. trade worries hit Chinese shares. The ACWI was last down 0.1% on the day.

"Even though the threat of these new tariffs is nothing new, the apparent lack of reluctance in looking to escalate the current dispute - along with further threats by President Trump to withdraw from the World Trade Organisation 'if they don't shape up' - has led to increasing investor reluctance to commit new money into global equities," said Michael Hewson, chief markets analyst at CMC Markets in London.

The Shanghai composite index had fallen to near a 2-year low hit earlier in the month but recovered some of the day's losses later in the session.

While trade jitters dominated market sentiment, indicators suggests activity in the world's second largest economy remained firm. The official Purchasing Managers' Index (PMI) on Friday showed growth in China's manufacturing sector unexpectedly picked up in August after a two-month slide.

Overall however, caution reigned, helping to lift the safe haven Japanese yen, which rose 0.6% on Thursday, its biggest daily rise in about six weeks. In European trade, it was 0.2% higher at 110.47 per dollar.

The euro was 0.1% higher at $1.1683, having shed 0.33% in the previous session.

The common currency has recovered from a 13-1/2-month low of $1.1301 hit in mid-August but looks set to end the month little changed from end-July.

Against a basket of currencies, the dollar was 0.2% lower.

EMERGING CURRENCIES IN FREEFALL

Emerging market currencies had less luck, with those of countries that rely on foreign capital to finance their current account deficits hit the hardest.

The Argentine peso, the world's worst-performing currency this year due to the country's poor economic health, fell 10% on the day, bringing its month-to-date losses to 27%.

Argentina's central bank voted unanimously at an emergency meeting on Thursday to raise its benchmark rate to 60% from 45% but the unexpected move failed to stabilise the peso.

That knocked the Brazilian real to near its record low touched in September 2015. It is down almost 10% this month.

The Turkish lira, which has been hit by concerns over President Tayyip Erdogan's influence over monetary policy making and his diplomatic spats with Washington, also slipped towards record lows marked about two weeks ago.

The lira bounced back about 1% to 6.5911 per dollar in volatile trade, though it has fallen 9% so far this week. It was hit lately by reports that a central bank deputy governor was leaving the bank.

In Asia, the Indonesian rupiah fell to a three-year low even though the country's central bank said it was "decisively" intervening to support the currency. The rupiah has lost two% so far this month.

The Indian rupee hit a record low, having fallen 3.4% so far this month.

Oil prices fell. Brent crude oil traded over half a% lower at $77.33 a barrel while U.S. crude fell 0.3% at $70.01 a barrel, little changed from previous close.