Hong Kong (Reuters): Asia's factories cranked up production in August as global demand remained strong, confounding expectations that growth may have peaked, but worries about China's massive debt and monetary tightening in the West are likely to keep businesses and markets on edge for months to come.

Similar manufacturing activity surveys from Europe and the United States later on Friday are expected to show strong growth, too, paving the way for a gradual rollback of the radical stimulus introduced after the global financial crisis.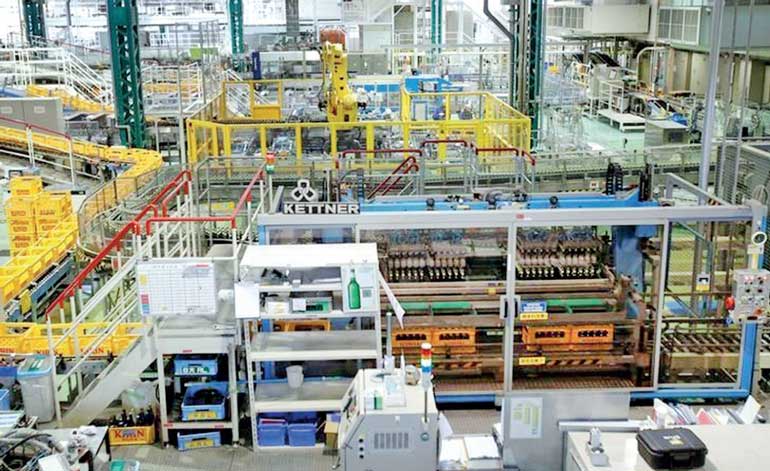 In China, manufacturing activity accelerated to a six-month high, buoyed by the sharpest increase in new export orders in seven years and higher prices, a private survey showed.

That echoed similarly robust official data on Thursday suggesting the industrial sector is continuing to prosper from a year-long, government-led building boom. In both cases, economists had expected growth rates to ease.

The third quarter is now looking strong enough that China could sustain much of the momentum from its forecast-beating 6.9% growth in the first half of the year, despite a regulatory crackdown on riskier types of financing and debt and a slew of measures to cool its overheating property market.

Indeed, ratings agency Moody's Investors Service this week raised its growth forecasts for China, South Korea and Japan.

"The surveys point to resilient industrial activity last month," said Julian Evans-Pritchard, China economist at Capital Economics.

But he added: "Investment growth has cooled recently and we anticipate a further slowdown as the impact of tighter monetary conditions continues to feed through. If we are right, the current strength of industrial activity can't be sustained for long."
Better demand at home and abroad

Manufacturing also expanded solidly in the world's No.3 economy, Japan, as domestic and export orders picked up. The pick-up in new business was generally more modest than in China, however, suggesting its economic growth may moderate from an eye-popping 4% annualized rate in the second quarter.

Other Asian electronics producers were also still riding high.

Taiwan's manufacturing survey saw the fastest growth in four months, while South Korea's exports beat expectations and posted their longest run of growth in almost six years. South Korea is the first among major exporting countries to publish its monthly trade figures.

India's activity also unexpectedly rebounded in August, in a sign there was light at the end of the tunnel, with the shock of last year's demonetisation cash crunch and confusion over a new goods and services tax likely to ease in coming months.

Data on Thursday showed Indian economic growth unexpectedly cooled in the June quarter to a three-year low of 5.7%.
China reshuffles leadership at critical time

In China, the private Caixin/Markit survey showed new business grew at the strongest pace in more than three years in August. The manufacturing Purchasing Managers' Index (PMI) rose to 51.6, from 51.1 in July. Levels above 50 suggest expansion.

Prices of industrial commodities and building materials, in particular, have surged in China this year largely due to the government's hefty infrastructure spending and its efforts to reduce excess capacity by shutting inefficient mines and mills.

China's surprisingly resilient growth so far this year is not only a boon for the global economy but also for the Communist Party as it prepares for a once-in-five-years leadership reshuffle in October, with stability its key priority.

At the party congress, President Xi Jinping is expected to consolidate power and lay out his vision for the next five years and beyond, with focus on areas like economic reform and the war on corruption.

But risks for China abound as the government tries to defuse a rapid build-up in corporate debt that is now estimated at around 1.7 times the size of the economy.

Further regulatory tightening could curb growth in the near-term or roil financial markets, even though debt control and reforms are needed to foster longer-term sustainable growth.

"After the congress everything will be much tighter ... and that may have an impact on the economy," said Kevin Lai, chief economist Asia ex-Japan at Daiwa Capital Markets.

On Friday, the head of the People's Bank of China's research bureau said the property market has become a major source of financial risk and said new measures should be considered.
Tapering, unwinding

While policymakers in China and Japan still have their feet firmly on the gas, feeding a steady stream of stimulus to their economies, stronger growth in the West is prompting central bankers there to start winding back years of super-easy money.

Europe's manufacturing PMI is expected to show hardy growth, with economists forecasting a headline reading of 57.4%, the same as in July.

In the United States, the ISM manufacturing PMI in the United States is seen rising to 56.5, from 56.3 in July, though it is likely to be overshadowed by non-farm job data which could give investors clues on whether the Federal Reserve will raise interest rates again this year.

Laurence Boone, Global Head of Research and Investment Strategy at AXA Investment Managers, expects the Fed to announce the unwinding of its enormous balance sheet in September and the European Central Bank to announce in October it will start tapering its asset purchases next year.

But he said the pace of interest rate hikes in the United States may slow as the Trump administration struggles to implement its economic policies. Boone expects three more hikes in the current cycle.

"U.S. politics is seen as the main source of uncertainty in the Western world," Boone said.