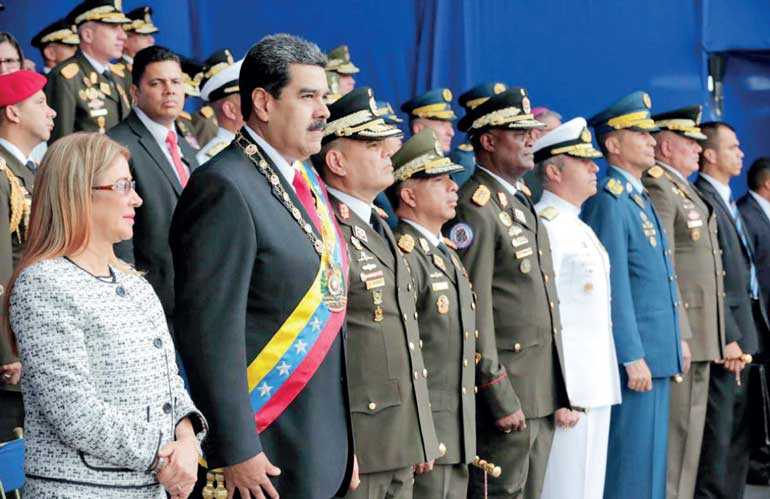 Venezuela's President Nicolas Maduro and his wife Cilia Flores attend a military event in Caracas, Venezuela - REUTERS
CARACAS (Reuters): At least one explosion rocked a military event where Venezuelan President Nicolas Maduro was giving a speech on Saturday, and the Government said it was a failed assassination attempt involving drones carrying explosives.

Maduro said "everything points" to a right-wing plot that initial investigation suggested was linked to Colombia and the US state of Florida, where many Venezuelan exiles live. Several perpetrators were caught, he said, without elaborating.

Information Minister Jorge Rodriguez said drones loaded with explosives detonated close to the military event in downtown Caracas. A Venezuelan who was visiting family nearby told Reuters she heard two explosions.

Maduro, a leftist who replaced President Hugo Chavez after his death in 2013, was unharmed, but Rodriguez said seven National Guard soldiers were injured.

"This was an assassination attempt. They tried to assassinate me," Maduro said in a later televised address.

A little-known group called the 'National Movement of Soldiers in T-shirts' claimed responsibility for the attack. In a series of posts on social media, the Group said it had planned to fly two drones but that snipers shot them down.

"We demonstrated that they are vulnerable. We didn't have success today, but it's just a question of time," said the Group, which says it was founded in 2014 to bring together all of Venezuela's 'groups of resistance'.

The Group did not respond to several requests for information from Reuters.

Maduro won a new six-year term in May, but his main rivals disavowed the election and alleged massive irregularities.

Venezuela is suffering under the fifth year of a severe economic crisis that has sparked malnutrition, hyperinflation and mass emigration.

Maduro named Colombian President Juan Manuel Santos as being behind the attack, but gave no evidence to back that up. "The name of Juan Manuel Santos is behind this attack. The initial investigations point to Bogota," Maduro said.

A Colombian Government source said Maduro's allegation was "absurd" and that Santos was celebrating his granddaughter's baptism on Saturday. "He is not thinking of anything else, least of all bringing down foreign governments," the source said.

During the incident, Maduro was speaking about Venezuela's economy in an address when audio of the live television coverage was suddenly cut off.