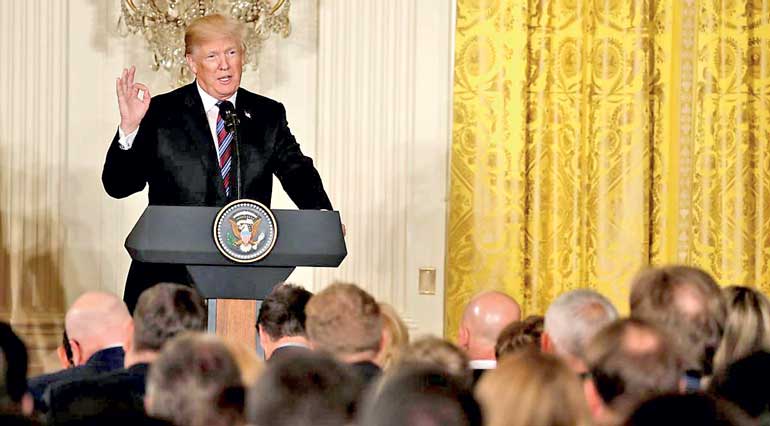 WASHINGTON (Reuters): The Trump administration on Tuesday raised the stakes in a growing trade showdown with China, targeting 25% tariffs on some 1,300 industrial technology, transport and medical products to try to force changes in Beijing's intellectual property practices.

The U.S. tariff unveiling, representing about $50 billion of estimated 2018 imports and aimed at dealing a setback to China's efforts to upgrade its manufacturing base, drew an immediate condemnation from Beijing, along with a threat of retaliatory action.

China's Ministry of Commerce said it "will soon take measure of equal intensity and scale against U.S. goods."

"We have the confidence and ability to respond to any protectionist measures by the United States," the ministry said in a statement quoted by the official Xinhua news agency.

The ministry did not reveal any specific countermeasures, but economists widely view imports of U.S. soybeans, aircraft and machinery as prime targets for trade retaliation.

The tariff list from the U.S. Trade Representative's office followed China's imposition of tariffs on $3 billion worth of U.S. fruits, nuts, pork and wine to protest new U.S. steel and aluminum tariffs imposed last month by U.S. President Donald Trump.

The standoff between the world's two largest economies has sparked market fears that they could spiral into a trade war that could crush global growth. Asian share markets were mixed amid trade tension concerns, with Japan's Nikkei 225 off 0.1% but Shanghai's main index poised to open 0.3% higher. The USTR list ranged from chemicals to light-emitting diodes to machine parts, but U.S. industry groups warned it would still hit supply chains that rely on Chinese components and would ultimately raise costs for consumers.

Many consumer electronics products such as cellphones made by Apple Inc. and laptops made by Dell were excluded, as were footwear and clothing, drawing a sigh of relief from retailers who had feared higher costs for American consumers.

But the USTR did include some key consumer products from China, including flat-panel television sets and motor vehicles, both electric and gasoline-powered with engines of three liters or less.

A Reuters analysis that compared listed products with 2017 Census Bureau import data showed $3.9 billion in flat-panel television imports, and $1.4 billion in vehicle imports from China. Among vehicles likely to be hit with tariffs is General Motors Co's Buick Envision sport-utility vehicle, which is assembled in China and sold in the United States. Volvo, owned by China's Geely Motors, also exports Chinese-built vehicles to the United States. More than 200 products on the list saw no U.S. imports last year, including large aircraft and communication satellites, while some categories were highly unlikely to ever be imported, such as artillery weapons.

Publication of the tariff lists starts a public comment and consultation period expected to last around two months, after which USTR said it would issue a "final determination" on the product list. It has scheduled a May 15 public hearing on the tariffs.

China ran a $375 billion goods trade surplus with the United States in 2017, a figure that Trump has demanded be cut by $100 billion.

USTR developed the tariff targets using a computer algorithm designed to choose products that would inflict maximum pain on Chinese exporters, but limit the damage to U.S. consumers.

A USTR official said the product list got an initial scrub by removing products identified as likely to cause disruptions to the U.S. economy and those that needed to be excluded for legal reasons.

"The remaining products were ranked according to the likely impact on U.S. consumers, based on available trade data involving alternative country sources for each product," the official, who spoke on condition of anonymity, told Reuters.

USTR said the China tariffs announced on Tuesday were proposed "in response to China's policies that coerce American companies into transferring their technology and intellectual property to domestic Chinese enterprises."

The agency added that such policies "bolster China's stated intention of seizing economic leadership in advanced technology as set forth in its industrial plans." China has denied that its laws require technology transfers and has threatened to retaliate against any U.S. tariffs with trade sanctions of its own, with potential targets such as U.S. soybeans, aircraft or heavy equipment.

A USTR official said the tariff list targeted products that benefit from China's industrial policies, including the "Made in China 2025" program, which aims to replace advanced technology imports with domestic products and build a dominant position in future industries.

The state-led 2025 program targets 10 strategic industries: advanced information technology, robotics, aircraft, new energy vehicles, pharmaceuticals, electric power equipment, advanced materials, agricultural machinery, shipbuilding and marine engineering and advanced rail equipment.

Many products in those segments appear on the list, including antibiotics and industrial robots and aircraft parts.

U.S. business groups reacted cautiously, saying they agreed with Trump's efforts to stop the theft of U.S. intellectual property, but questioning whether tariffs were the right approach. "Tariffs are one proposed response, but they are likely to create new challenges in the form of significant added costs for manufacturers and American consumers," National Association of Manufacturers President Jay Timmons said in a statement.

U.S. Senator Marco Rubio said in a letter to Lighthizer and Treasury Secretary Steven Mnuchin that he was glad to see "bold" action against China.

"These necessary actions constitute an important break with the appeasement of previous administrations, and provide an opportunity to chart a new course for America's relationship with this strategic competitor," Rubio wrote.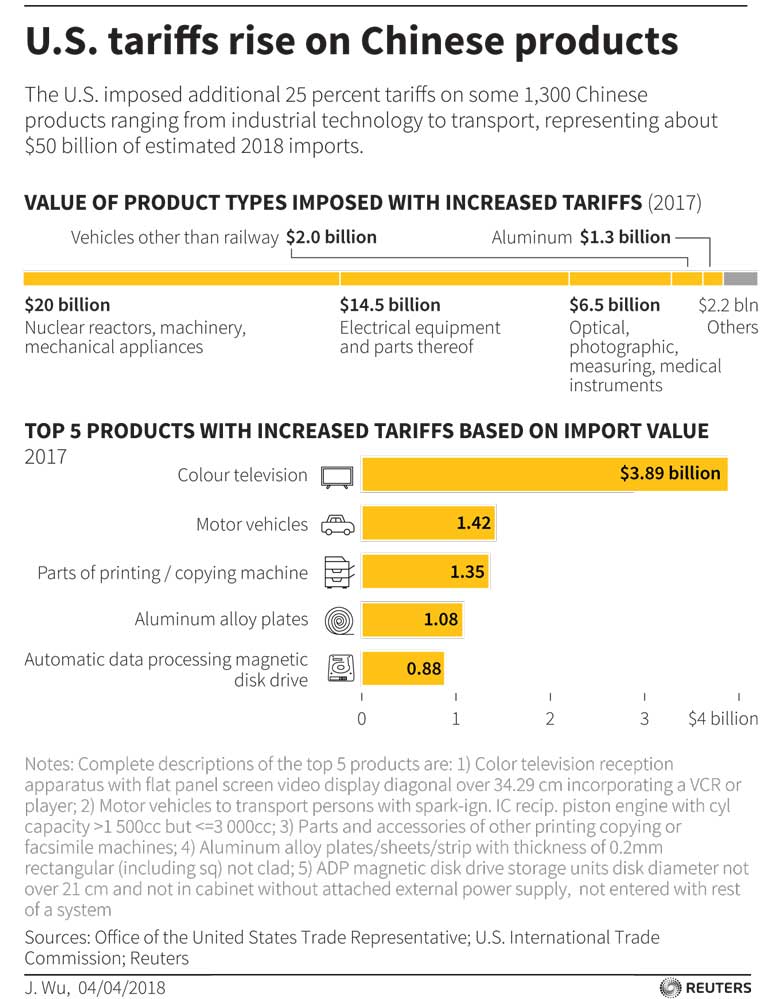 ---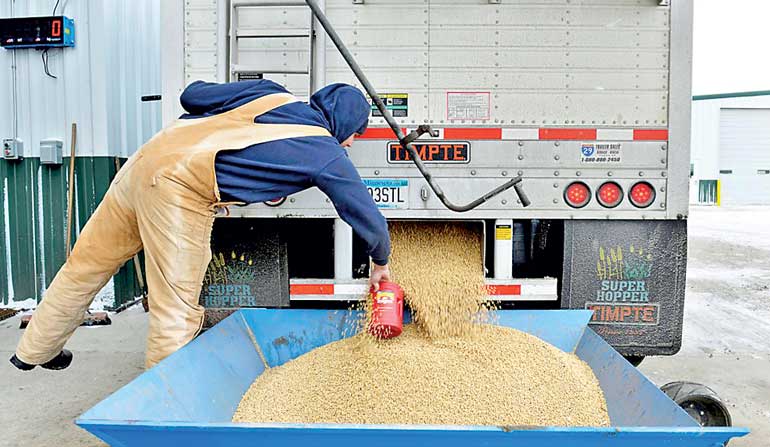 China retaliates, slaps duties on US soybeans, planes; markets skid
Beijing/Washington (Reuters): China hit back quickly yesterday (4 April) against the Trump administration's plans to slap tariffs on $50 billion in Chinese goods, retaliating with a list of similar duties on key US imports, including soybeans, planes, cars, beef and chemicals.

The speed with which the trade struggle between Washington and Beijing is ratcheting up – China took less than 11 hours to respond with its own measures – led to a sharp selloff in global stock markets and commodities.

US President Donald Trump denied that the tit-for-tat moves amounted to a trade war between the world's two economic superpowers.

"We are not in a trade war with China, that war was lost many years ago by the foolish, or incompetent, people who represented the US," Trump wrote in a post on Twitter early yesterday.

Investors were wondering, nonetheless, how far one of the worst trade disputes in many years could escalate.

"The assumption was China would not respond too aggressively and avoid escalating tensions. China's response is a surprise for some people," said Capital Economics Senior China Economist Julian Evans-Pritchard, noting that neither side had yet called for enforcement of the tariffs. US-made goods that appear to face added tariffs in China, based on an analysis of Beijing's list, include Tesla electric cars, Ford's Lincoln auto models, Gulfstream jets made by General Dynamics and Brown-Forman Corp's Jack Daniel's whiskey.

Unlike Washington's list, which was filled with many obscure industrial items, China's list strikes at signature US exports, including soybeans, frozen beef, cotton and other key agricultural commodities produced in states from Iowa to Texas that voted for Donald Trump in the 2016 presidential election.

While Washington targeted products that benefit from Chinese industrial policy, including its "Made in China 2025" initiative to replace advanced technology imports with domestic products in strategic industries such as advanced IT and robotics, Beijing's appears aimed at inflicting political damage. Tobacco and whiskey, for example, are both on Beijing's list and are produced in states including Kentucky, home of Senate Majority Leader Mitch McConnell.

"It's more of a game of brinkmanship, making it clear what the cost would be, in the hopes that both sides can come to agreement and none of these tariffs will come into force," said Evans-Pritchard.

Beijing's list of 25% additional tariffs on US goods covers 106 items with a trade value matching the $50 billion targeted on Washington's list, China's commerce and finance ministries said.

The effective date depends on when the US action takes effect. "This is a real game changer and moves the trade dispute away from symbolism to measures which would really hurt U.S agricultural exports," said Commerzbank commodities analyst Carsten Fritsch. China's tariff list covers aircraft that would likely include older models such as Boeing Co's workhorse 737 narrowbody jet, but not newer models like the 737 MAX or its larger planes. A Beijing-based spokesman for Boeing, the largest single US exporter to China, declined to comment. Beijing's announcement triggered heavy selling in global financial markets, with US stock futures sliding 1.5% and US soybean futures plunging nearly 5% and on track for their biggest fall since July 2016. The dollar briefly extended early losses, while China's yuan skidded in offshore trade.
---
Global shares recoil as China retaliates in US trade war
London (Reuters): Stock markets recoiled yesterday (4 April) as China retaliated in an escalating trade war with the United States, leaving investors reluctant to take positions in anything but the safest of assets.

US shares rose on Tuesday (3 April) on the view that President Donald Trump's Twitter attacks on retailer Amazon would not translate into actual policy.

Yet trade worries were never far away. Late on Tuesday, the Trump administration announced 25% tariffs on $50 billion of annual imports from China, covering about 1,300 industrial technology, transport and medical products.

China responded with penalties on $50 billion of US goods ranging from soybeans, cars and chemicals to whisky, cigars and tobacco with its Vice Finance Minister stressing the country had never given in to external pressure.

The moves triggered further heavy selling in global stock markets and commodities, with US stock futures sliding 1.4%, soybean futures plunging 4.5% and the dollar and China's yuan both hit.

In Europe, London's FTSE, Paris's CAC40 and the export-heavy German DAX fell between 0.6% and 1.2%.

MSCI's broadest index of Asia-Pacific shares outside Japan had spent most of its session dithering either side of flat before ending 0.3% lower.

China's retaliation came after trading hours for Japan's Nikkei, which added 0.2% in thin volumes and Chinese blue chips ended down 0.2%. South Korea saw the big move, dropping 1.4%.

Emerging market stocks, which have proved resilient to trade tensions, tumbled 1.6% and turned negative on the year.

EMini futures for the S&P 500 were also pointing to New York opening between 1.5% and 1.8% down.

The dollar dropped to 106.14 yen, after edging up from a low of 105.70 on Tuesday. The euro hovered at $1.2287, after easing from a high of $1.2335 overnight, while the dollar index was 0.2% lower at 90.