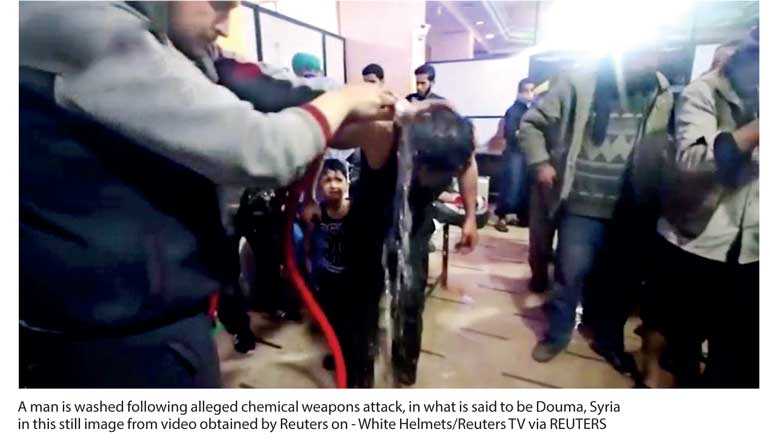 UNITED NATIONS/BEIRUT (Reuters): Russia and the United States tangled on Tuesday at the United Nations over the use of chemical weapons in Syria as Washington and its allies considered whether to strike at President Bashar al-Assad's forces over a suspected poison gas attack last weekend.

Moscow and Washington halted attempts by each other in the UN Security Council to set up international investigations into chemical weapons attacks in Syria, which is in the throes of a seven-year-old civil war.

US President Donald Trump and Western allies are discussing possible military action to punish Assad for a suspected poison gas attack on Saturday on a rebel-held town that long had held out against government forces.

Trump on Tuesday cancelled a planned trip to Latin America later this week to focus instead on responding to the Syria incident, the White House said. Trump had on Monday warned of a quick, forceful response once responsibility for the Syria attack was established.

Pan-European air traffic control agency Eurocontrol warned airlines to exercise caution in the eastern Mediterranean due to the possible launch of air strikes into Syria in next 72 hours.

On the diplomatic front, the United Nations Security Council failed to approve three draft resolutions on chemical weapons attacks in Syria. Russia vetoed a US text, while two Russian-drafted resolutions failed to get a minimum nine votes to pass.

Moscow opposes any Western strike on its close ally Assad and has vetoed Security Council action on Syria 12 times since the conflict started.

US Ambassador to the United Nations Nikki Haley told the Security Council that adopting the US-drafted resolution was the least that member nations could do.

"History will record that, on this day, Russia chose protecting a monster over the lives of the Syrian people," Haley said, referring to Assad.

At least 60 people were killed and more than 1,000 injured in Saturday's suspected chemical weapons attack on the town of Douma, according to a Syrian relief group.

Doctors and witnesses have said victims showed symptoms of poisoning, possibly by a nerve agent, and reported the smell of chlorine gas.

Russian UN Ambassador Vassily Nebenzia said Washington's decision to put forward its resolution could be a prelude to a Western strike on Syria.

"I would once again ask you, once again beseech you, to refrain from the plans that you're currently developing for Syria," he said after the council failed to approve a third draft resolution on chemical weapons attacks in Syria.

International chemical weapons experts are expected to go to Douma to investigate the suspected poison gas attack.

France and Britain discussed with the Trump administration how to respond to the Douma attack. Both stressed that the culprit still needed to be confirmed.

The Douma incident has thrust Syria's conflict back to the forefront of the international stage, pitting Washington and Moscow against each other once again.

Trump said that he would make a decision about how to respond within a few days, adding that the United States had "a lot of options militarily" on Syria.

Assad's government and Russia have said there was no evidence a gas attack had taken place and that the claim was bogus.

Any US strike is likely to involve naval assets, given the risk to aircraft from Russian and Syrian air defence systems. A US Navy guided-missile destroyer, the USS Donald Cook, is in the Mediterranean.

A key issue being considered by US defence and intelligence agencies and war planners is the effectiveness of Syrian air defences and the extent to which Russia is helping to organise, and ultimately, direct Syrian air defence operations, according to two US government sources.

Last year, the United States launched strikes from two Navy destroyers against a Syrian air base.

US military action similar to last year's would likely not cause a shift in the direction of the war that has gone Assad's way since 2015 with massive aid from Iran and Russia.

There was little expectation that members of Congress would object if Trump launched an attack on Syria, despite some calls for lawmakers to exert their power to authorize military action. Most members of Congress – Democrats as well as his fellow Republicans - praised Trump after the strike last year.

French President Emmanuel Macron said on Tuesday that any strikes would not target the Syrian government's allies or anybody in particular, but would be aimed at the Syrian government's chemical facilities.

The Hague-based Organisation for the Prohibition of Chemical Weapons (OPCW) said Syria had been asked to make the necessary arrangements for the deployment of an investigation team.

"The team is preparing to deploy to Syria shortly," it said in a statement.

The mission will aim to determine whether banned munitions were used but will not assign blame.

The Assad government and Russia both urged the OPCW to investigate the allegations of chemical weapons use in Douma, a move by the two countries that was apparently aimed at averting any US-led action.