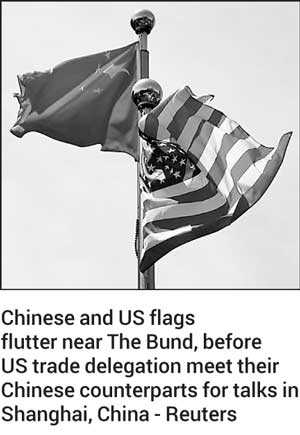 WASHINGTON (Reuters): US and Chinese deputy trade negotiators resumed face-to-face talks for the first time in nearly two months on Thursday, as the world's two largest economies try to bridge deep policy differences and find a way out of their protracted trade war.

The negotiations, which will extend into Friday, are aimed at laying the groundwork for high-level talks in early October that will determine whether the two countries are working toward a solution or headed for new and higher tariffs on each other's goods.

A delegation of about 30 Chinese officials, led by Vice Finance Minister Liao Min, met counterparts at the US Trade Representative's (USTR) office near the White House. Deputy USTR Jeffrey Gerrish led the US delegation.

The discussions are seen focusing heavily on agriculture, including US demands that China substantially increase purchases of American soybeans and other farm commodities, a person with knowledge of the planned discussions told Reuters.

Two negotiating sessions over the two days will cover agricultural issues, while just one will be devoted to the strengthening of China's intellectual property protections and the forced transfer of US technology to Chinese firms.

"Sessions on agriculture will get a disproportionate amount of air time," the source said, adding that one of these sessions also will include a focus on US President Donald Trump's demand that China cut off shipments of the synthetic opioid fentanyl to the United States.

The president is eager to provide export opportunities for US farmers, a key Trump political constituency that has been battered by China's retaliatory tariffs on US soybeans and other agricultural commodities.

US Commerce Secretary Wilbur Ross, in an interview on Fox Business Network on Thursday, said it remained unclear what China wanted and that "we will find out very, very shortly in the next couple of weeks."

"What we need is to correct the big imbalances, not just the current trade deficit," Ross said. "It's more complicated than just buying a few more soybeans." In an unexpected twist, some members of the Chinese delegation will stay in the United States to visit US farming regions next week, Agriculture Secretary Sonny Perdue told reporters.

"They want to see the production of agriculture. I think they want to build goodwill," Perdue said.

CNBC earlier reported that the group will visit Bozeman, Montana, and Omaha, Nebraska.

A USTR spokesman did not immediately respond to queries.

Treasury Secretary Steven Mnuchin, who along with USTR Robert Lighthizer and Chinese Vice Premier Liu He, will participate in the October discussions, has said that currency issues will be a focus of the new rounds of talks.

Mnuchin formally declared China a currency manipulator last month after the yuan weakened against the dollar, accusing Beijing of trying to gain a trade advantage.

Trump has said that China failed to follow through on agricultural purchase commitments made by President Xi Jinping at a G20 summit in Japan as a goodwill gesture to get stalled talks back on track. China has denied making such commitments.

When such purchases failed to materialise during US-China trade talks in late July, Trump quickly moved to impose 10% tariffs on virtually all remaining Chinese imports, untouched in previous rounds.

Last week, however, Trump delayed a scheduled 1 October tariff increase on $250 billion worth of Chinese imports until mid-month, and China postponed tariffs on some US cancer drugs, animal feed ingredients and lubricants.

On Thursday, USTR said dozens more Chinese products would be excluded from existing tariffs, including dog collars, some printed circuit boards used in computers, certain auto parts and Christmas tree lights.