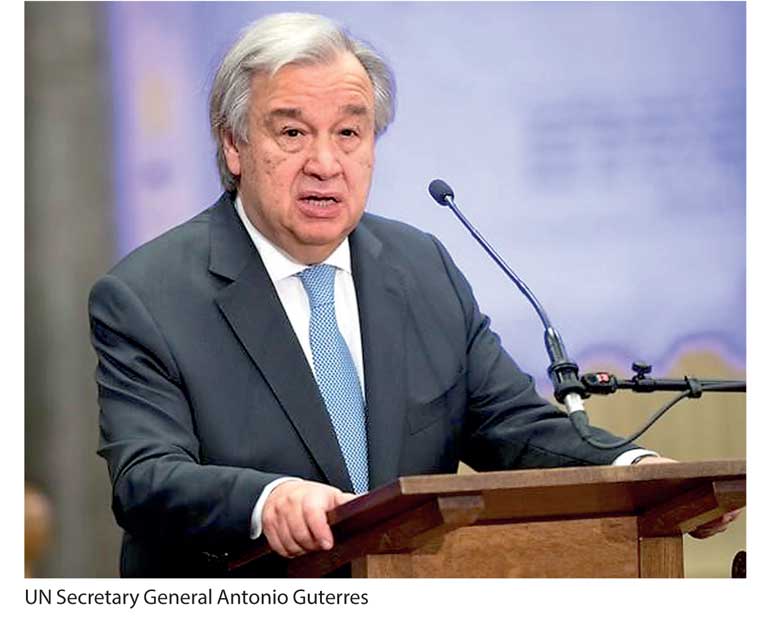 Geneva (Reuters): UN Secretary General Antonio Guterres called on Monday for a new global effort to get rid of nuclear weapons, drawing a cautious response from envoys of atomic-armed powers at odds for decades over nuclear disarmament.

Speaking to the Conference on Disarmament at the UN complex in Geneva, Guterres said many states still wrongly thought that nuclear weapons made the world safer.

"There is great and justified anxiety around the world about the threat of nuclear war," he said.

"Countries persist in clinging to the fallacious idea that nuclear arms make the world safer ... At the global level, we must work towards forging a new momentum on eliminating nuclear weapons."

The Conference on Disarmament is the world's main forum for nuclear disarmament, but since 1996 it has been deadlocked by disagreements and distrust between rival nuclear powers.

Ambassadors from the United States, China and France said they shared his concerns about the current security environment but their comments suggested it would be an uphill struggle to end two decades of stalemate in nuclear negotiations.

US Ambassador Robert Wood said negotiators needed to "look reality in the eye" and accept that nuclear disarmament in the near term was unrealistic.

It was not the time for bold new disarmament initiatives, but the United States was committed to the "aspirational goal" of eliminating nuclear weapons and would stand by its commitments, Wood said.

"Even in these difficult times, the United States will seek the development of measures that may be effective in creating the conditions for future nuclear disarmament negotiations," he told the forum.

Chinese Ambassador Fu Cong said China appreciated Guterres' efforts but said reform should not be rushed.

"Reducing the role of nuclear weapons in national security doctrines and abandoning the nuclear deterrent policy based on the first use of nuclear weapons constitutes the most practical and feasible nuclear disarmament measure at present," Fu said.

French Ambassador Alice Guitton said Guterres' statement was very timely, but disarmament could not be decreed, it needed to be built with patience, perseverance and realism.

Dangerous direction

Guterres said talks should target not only nuclear, chemical and conventional arms but also autonomous and unmanned weapons, artificial intelligence, biotechnology and space-based systems.

There are currently around 150,000 nuclear weapons worldwide and the arms trade is flourishing more than at any time since the Cold war, with $1.5 trillion of spending annually, he said.

Taboos on nuclear tests and chemical weapons usage were under threat, he added, while talk of tactical nuclear weapons was leading in an extremely dangerous direction.

Earlier this month the United States published its "nuclear posture review", which justified an expansion of its "low-yield" nuclear capability by saying it would deter Russia's tactical nuclear weapons.

Last week diplomats and disarmament experts discussed Guterres's initiative with UN officials during a retreat near New York, and he is expected to launch his plans around April or May with "practical and implementable actions".

"The challenges are enormous, but history shows that it has been possible to reach agreement on disarmament and arms control even at the most difficult moments," Guterres said.