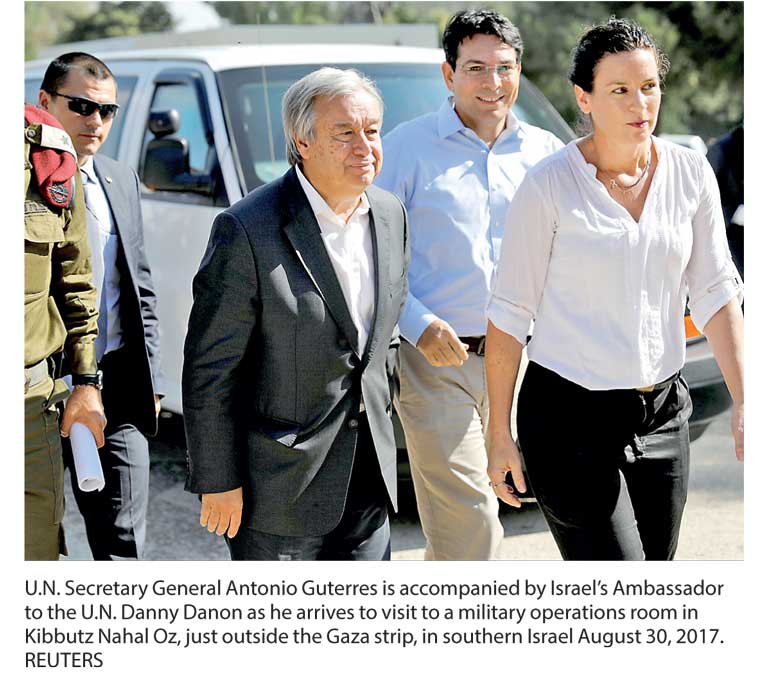 Guterres visits Gaza after talks in Jerusalem, West Bank
Says internal divisions undermine Palestinian cause
Political power-sharing dispute leads to Gaza blackouts
Gaza (Reuters): U.N. Secretary-General Antonio Guterres appealed in the Gaza Strip on Wednesday for an end to Palestinian political divisions that have deepened an energy crisis in the isolated enclave of two million people.

Guterres, on his first visit to the Hamas-ruled territory since taking office in January, did not meet leaders of the Islamist movement, which the West regards as a terrorist group.

"Yesterday, I was in (the West Bank city of) Ramallah. Today, I am in Gaza. They are both parts of the same Palestine. So, I appeal for the unity ... The division only undermines the cause of the Palestinian people," he said in a speech at a U.N.-run school in the coastal territory.

Hamas and Palestinian President Mahmoud Abbas's Palestinian Authority (PA), which exercises limited self-rule in the Israeli-occupied West Bank, have been locked for years in dispute over power-sharing.

Applying pressure on Hamas, Abbas in recent months has slashed PA funding for Israeli-supplied electricity to Gaza, leading to prolonged daily blackouts in the enclave that the group seized from his Fatah faction in fighting in 2007.

"Being in Gaza, allow me to express my dream in a different way: the dream to be able to come back to Gaza one day and to see Gaza as part of a Palestinian state in peace, with prosperity and welfare for the people of this wonderful place," Guterres said.

Guterres, who crossed overland into Gaza from Israel after a helicopter tour of the border area with Israeli officials, repeated a call for a resumption of Israeli-Palestinian peace negotiations that collapsed n 2014.

Citing security concerns, both Israel and Egypt maintain tight restrictions on the movement of people and goods along their respective Gaza frontiers.

In a statement, Hamas said it welcomed Guterres's visit and called on him to "make all possible efforts to lift the Gaza siege and end the suffering of two million Palestinians living in the world's largest open-air prison".

In his speech, Guterres said it was "important to open the closure" on the basis of a 2005 pact between Israel and the Palestinian Authority that includes detailed security arrangements for Gaza's border crossings.