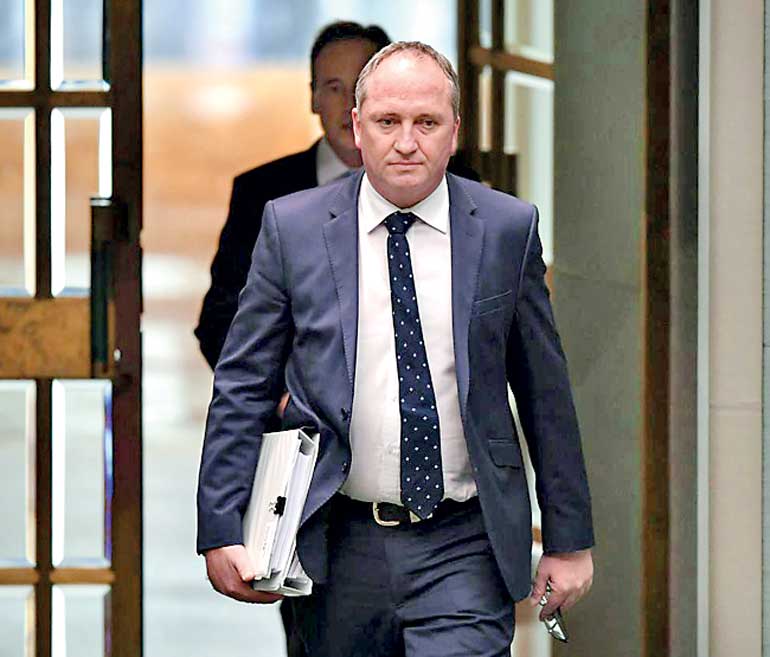 SYDNEY (Reuters) - Two-thirds of Australian voters want Deputy Prime Minister Barnaby Joyce to resign following his extramarital affair with his former press secretary, a poll showed on Monday, adding pressure on a government already fractured by the scandal.

Joyce, a Catholic who campaigned on "family values" and who has been married for 24 years, refused to resign when it was made public he was expecting a child with his former staffer.

Some 65% of voters want Joyce to step down as leader of the rural-based National Party, the junior partner in the government led by the Liberal Party, The Australian newspaper's Newspoll showed.

The Liberal-National coalition has existed since 1923, with the National leader usually taking on the deputy prime ministership.

The scandal has damaged the government's re-election chances, according to Newspoll. The government, which has only a one-seat majority, now trails the main opposition Labor Party by a margin of 53-47% on a two-party basis.

The government must call an election by May 2019.

With mounting public pressure, Joyce sought to turn the tide of public opinion, giving a rare interview on Monday with the Sydney Morning Herald newspaper, where he blamed public life for the breakdown of his marriage.

Joyce has began a highly unusual week-long leave of absence at the urging of Prime Minister Malcolm Turnbull, who will this week travel to Washington, which would have typically seen Joyce installed as acting prime minister. Finance Minister Mathias Cormann will now be acting leader.

As well as alienating voters, the scandal has fractured the ruling conservative government, with Joyce last week publicly criticising Turnbull for "causing further harm" through comments about his affair.

The scandal has prompted Turnbull to ban sexual relationships between ministers and their staff.

Turnbull and Joyce held urgent talks on Saturday. "We've put whatever tensions there were behind us," Turnbull told a radio station in Melbourne on Monday.