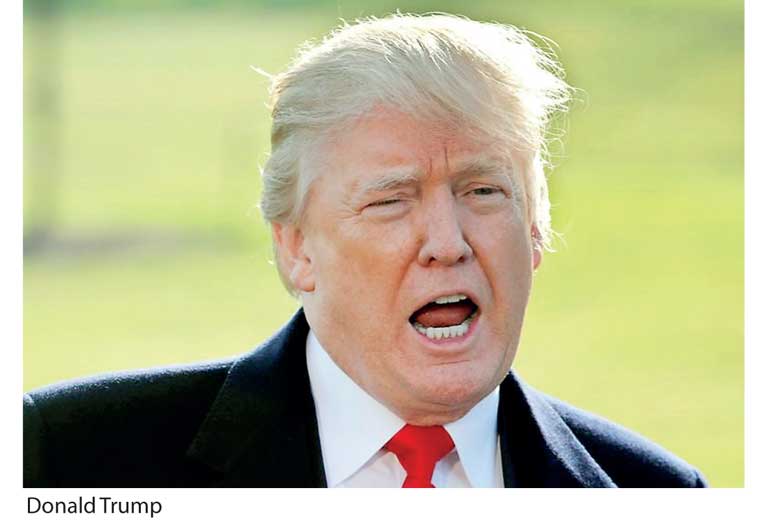 AFP: US President Donald Trump lashed out at Pakistan on Monday in his first tweet of 2018, threatening to cut off aid over what he said were its "lies and deceit" in offering "safe haven to terrorists."

"The United States has foolishly given Pakistan more than 33 billion dollars in aid over the last 15 years, and they have given us nothing but lies & deceit, thinking of our leaders as fools," Trump said as the new year kicked off.

"They give safe haven to the terrorists we hunt in Afghanistan, with little help. No more!"

Last week, The New York Times reported that the Trump administration was seriously weighing whether to withhold $255 million in already delayed aid to Islamabad over its failure to crack down more effectively on terror groups in Pakistan.

US-Pakistani ties, long contentious, have taken a nosedive under Trump, who in August declared that "Pakistan often gives safe haven to agents of chaos, violence and terror."

Last month, Trump had already hinted that he may cut off the aid.

"We make massive payments every year to Pakistan. They have to help," he said in unveiling his national security strategy.
Pakistan on notice
And in late December, Vice President Mike Pence told American troops during a visit to Afghanistan, "President Trump has put Pakistan on notice."

The comments were an extension of repeated US warnings that Pakistan must stop offering cross-border havens to Taliban factions operating in Afghanistan as well as armed jihadist groups fighting US troops and their Afghan allies.

Pakistani Foreign Minister Khawaja Muhammad Asif responded to Trump's tweet Monday, telling Geo television in an Urdu-language interview, "The United States should hold its own people accountable for its failures in Afghanistan." He said all funds from the US had been "properly audited" and that "services (were) rendered."

Islamabad has repeatedly denied the accusations of turning a blind eye to militancy, lambasting the United States for ignoring the thousands who have been killed on its soil and the billions spent fighting extremists.

Lisa Curtis, who is the South and Central Asia director on Trump's National Security Council, wrote in an article published in February that the "activities and operations of diverse terror groups on and from Pakistani soil, and the government's failure to rein them in, threaten vital US national security interests in the region."

"To accomplish US counterterrorism objectives in the region and to reverse extremist trends in Pakistani society, Pakistani authorities – specifically the country's military leaders, who control its foreign and security policies – need to take a comprehensive approach to shutting down all Islamist militant groups that operate from Pakistani territory, not just those that attack the Pakistani state," she said.

Trump first signalled that the US was reassessing its fractious relations with Pakistan in August, when he accused Islamabad of harbouring "agents of chaos."

The remarks triggered a series of high-level diplomatic meetings in the US and Pakistan, but Islamabad has given few signs of concessions.

After the September 11, 2001 terror attacks in the United States, Washington forged a strategic alliance with Islamabad to help in its fight against terrorists. But US leaders have often complained that Pakistan, which once supported the Taliban, has done too little to help.
Pakistan summons US ambassador over Trump tweet
AFP: Pakistan has summoned the US ambassador, an embassy spokesman said Tuesday, in a rare public rebuke after Donald Trump lashed out at Islamabad with threats to cut aid over "lies" about militancy.

Ambassador David Hale was asked to go to the foreign ministry in the Pakistani capital on Monday night, after Islamabad responded angrily to the US President's allegations that it provided safe havens for militants, in the latest spat to rock their alliance.

A US embassy spokesman confirmed Hale met officials, but added: "We don't have any comment on the substance of the meeting."

There was no immediate response from foreign ministry officials.