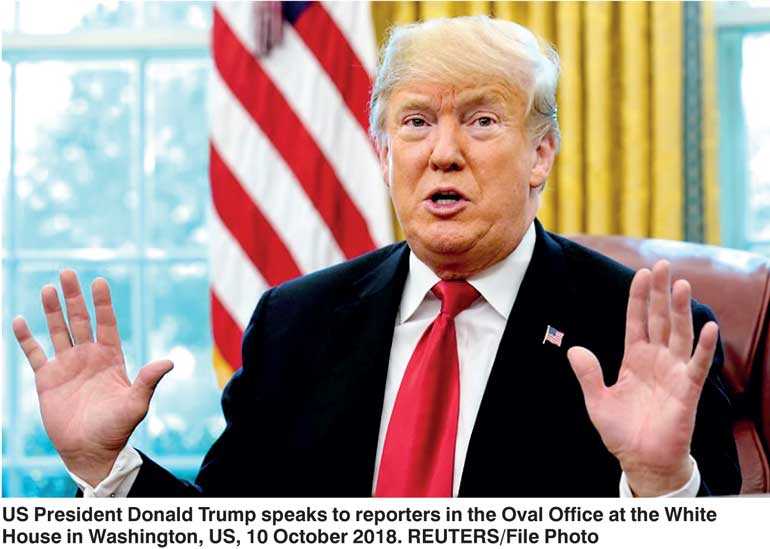 Washington (Reuters): US President Donald Trump said on Saturday the United States would be "punishing" itself by halting military sales to Saudi Arabia even if it is proven that Saudi journalist Jamal Khashoggi was killed inside the country's consulate in Istanbul.

Khashoggi, a prominent critic of Riyadh and a US resident, disappeared on 2 October after visiting the Saudi consulate. Turkey's government believes he was deliberately killed inside the building and his body removed.

Trump has forged closer ties with Saudi Arabia and is under international and domestic pressure to help determine what happened to Khashoggi and punish Saudi Arabia if investigations show its government had him killed.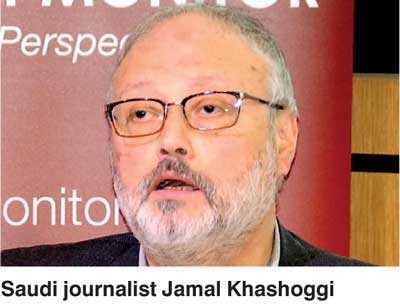 Republican and Democratic lawmakers alike have demanded firm action. There was already mounting concern over civilian deaths caused by a Saudi-led military coalition in Yemen's civil war and some lawmakers have said Washington should block military sales to Riyadh if the allegations over Khashoggi are proven.

But Trump is firmly opposed.

"I actually think we'd be punishing ourselves if we did that," Trump told reporters at the White House. "There are other things we can do that are very, very powerful, very strong and we'll do them," he added, without saying what those measures might be.

Under US law, major foreign military sales can be blocked by Congress. An informal review process lets key lawmakers use a practice known as a "hold" to stall deals if they have concerns such as whether the weapons being supplied would be used to kill civilians.

Major US defence contractors, including Lockheed Martin Corp and Raytheon Co, are among the beneficiaries of Washington's close ties to Riyadh and would be hurt by the halting of major arms deals.

Trump said on Saturday his administration won a $110 billion military order from Saudi Arabia and that the deal, combined with Saudi commitments to invest heavily in the United States, was worth hundreds of thousands of US jobs.

"If they don't buy it from us, they're going to buy it from Russia or they're going to buy it from China," he said. "Think of that, $110 billion. All they're going to do is give it to other countries, and I think that would be very foolish."

It was unclear what specific measures, if any, Trump is considering against Saudi Arabia, which is the world's largest oil exporter, and one of his top allies.

The Trump administration plans to re-impose sanctions on oil exports from Iran on Nov. 5 and Trump has urged Saudi Arabia to boost oil output to help make up for the loss.

Trump said he would probably speak to Saudi Arabia's King Salman over the weekend "because I think it's appropriate for me to ask him what's going on."
UK's Labour says it would stop selling arms to Saudi Arabia
LONDON (Reuters): Britain's main opposition Labour Party would stop selling arms to Saudi Arabia if it was in Government, its foreign policy spokeswoman said on Sunday after the disappearance of Saudi journalist Jamal Khashoggi.

Khashoggi entered the Saudi consulate in Istanbul on 2 October to get documents for his forthcoming marriage. Saudi officials say he left shortly afterwards but Turkish officials and his fiancée, who was waiting outside, said he never came out.

Turkish sources have told Reuters the initial assessment of the police was that Khashoggi, an outspoken critic of the Saudi Government, had been deliberately killed inside the consulate. Riyadh has dismissed the claims.

Emily Thornberry, Labour's so-called 'shadow Foreign Minister', told the BBC's Andrew Marr show that "the balance of evidence" suggested Saudi Arabia had killed the journalist.

"We would stop selling arms to Saudi Arabia in current circumstances until they changed their ways. We would be making it clear that we disagreed," she said.

"I think our country has had enough of this. I think we have to stand up to them and have to say that the current behaviour is unacceptable."

Foreign Minister Jeremy Hunt has called on Saudi Arabia to explain what happened to Khashoggi.
Saudi threatens to retaliate against any sanctions over Khashoggi disappearance
Riyadh says its retaliation would be tougher

Statement gives no details of possible measures

Follows threat by Trump to punish Riyadh

Saudi stock market loses as much as $33 b of value

Saudi ruling family member met Erdogan - sources
DUBAI (Reuters): Saudi Arabia rejected threats to punish it over the disappearance of journalist Jamal Khashoggi in Istanbul, saying the kingdom would retaliate against any sanctions with tougher measures, the official state news agency said on Sunday.

The comments came after U.S. President Donald Trump threatened "severe punishment" for Riyadh if it turned out Khashoggi, a prominent critic of Saudi authorities and a legal resident of the United States, was killed in the Saudi consulate in Istanbul.

"The Kingdom affirms its total rejection of any threats and attempts to undermine it, whether by threatening to impose economic sanctions, using political pressures, or repeating false accusations..." the official Saudi Press Agency quoted an unnamed government source as saying.

"The Kingdom also affirms that if it receives any action, it will respond with greater action, and that the Kingdom's economy has an influential and vital role in the global economy..." the source added without elaborating.

The threat caused the stock market of the world's biggest oil exporter to lose as much as $33 billion of its value on Sunday in one of the first signs of the economic pain that Riyadh could suffer over the affair.

The Saudi equities index plunged as much as 7% in its biggest drop since December 2014, when oil prices were crashing. It later recovered partially to stand 5.0% lower shortly before the close.

Turkey believes Khashoggi was deliberately killed in the consulate and his body removed. Riyadh has rejected those claims.

A senior member of Saudi Arabia's ruling family, Prince Khaled al-Faisal, has met Turkey's President Tayyip Erdogan to discuss Khashoggi's disappearance, two sources with knowledge of the matter told Reuters without providing details of the talks.

On Friday, a source with links to the prince's family said Prince Khaled, who is the governor of Mecca, had been sent to Turkey in his capacity as special adviser to King Salman.

Foreign capital is key to Saudi Arabia's plans to diversify its economy beyond oil and cut a 12.9% jobless rate among its citizens.

But in response to Khashoggi's disappearance, media firms and some technology executives have pulled out of a major Riyadh investment conference scheduled for next week.