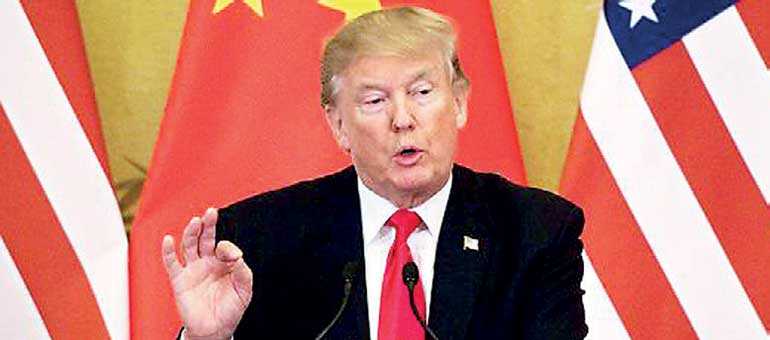 Reuters: US President Donald Trump accused China on Wednesday of targeting American farmers in a "vicious" way and using them as leverage to get concessions on trade.

"China is targeting our farmers, who they know I love and respect, as a way of getting me to continue allowing them to take advantage of the US. They are being vicious in what will be their failed attempt. We were being nice - until now!" Trump wrote on Twitter.

American farmers have been a particular target in the global clash over trade policy as other countries seek to retaliate for US duties on Chinese goods as well as on steel and aluminium imports from the European Union, Canada and Mexico.

The affected countries have in turn targeted US agricultural products, including soybeans, dairy, meat, produce and liquor.

The United States exported $ 138 billion in agriculture products in 2017, including $ 21.5 billion of soybeans, the most valuable export. China alone imported $ 12.3 billion of US soybeans last year, according to the US Department of Agriculture.

On Tuesday, the Trump administration said it will use a Great Depression-era program to pay up to $ 12 billion to help US farmers weather the growing trade war.

Many farmers and farm-state lawmakers condemned the move. Republican Senator Ben Sasse of Nebraska, a Trump critic, likened it to "golden crutches" to make up for a trade war that will cost farmers far more.

Republican Senator Mike Rounds of South Dakota said farmers in his state have already been hurt by the trade war, losing millions in lost orders.

"They'd much rather have free trade so they'd like to have trade arrangements already completed. But nonetheless, it's going to get down to a point where they're not going to be able to survive if this continues down the same path," Rounds told CNN on Wednesday.

Republican Senator Lisa Murkowski of Alaska urged Trump on Twitter to "recognise that trade assistance is no substitute for trade itself".

Rural and agricultural states supported Trump by wide margins in the 2016 election. Farmers will be able to sign up for the government aid in September, Agriculture Secretary Sonny Perdue said on Wednesday.

"Certainly, we'd rather have trade than aid and restore these markets, but not at unfair practices," Perdue said in an interview with Fox Business Network.

Republican Senator Marco Rubio of Florida responded enthusiastically to Trump's tweet.

"100% correct. #China plays hardball and this is the first time someone gives it back to them. For them this isn't about just trade, they seek economic dominance at our expense. We are running out of time to get some balance. It's now or never. We need to hang tough and together on China," he wrote.