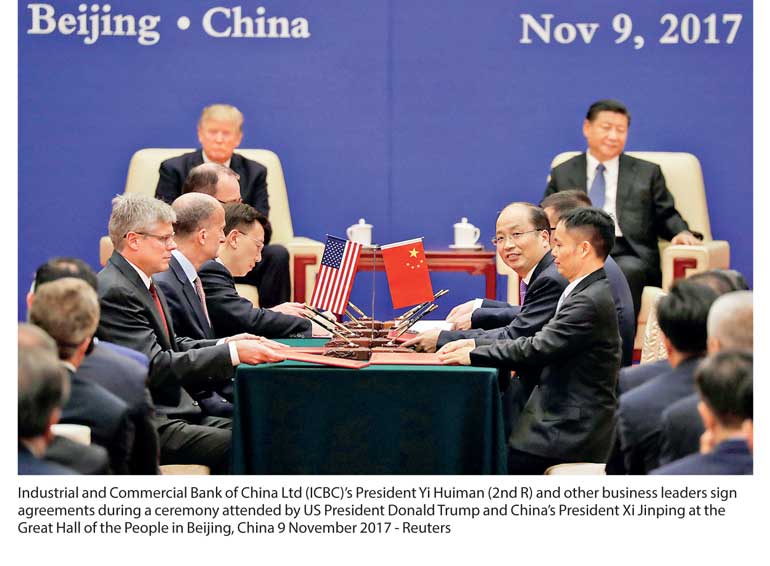 Beijing/Shanghai (Reuters): President Donald Trump can return to the United States claiming to have snagged over $ 250 billion in deals from his maiden trip to Beijing. Whether those deals live up to the lofty price tag is another question altogether.

Watched by Trump and China's President Xi Jinping at a signing ceremony in Beijing, US planemaker Boeing Co, General Electric Co and chip giant Qualcomm Inc sealed lucrative multi-billion dollar deals.

"This is truly a miracle," China's Commerce Minister Zhong Shan said at a briefing in Beijing.

The quarter of a trillion dollar haul underscores how Trump is keen to be seen to address a trade deficit with the world's second-largest economy that he has long railed against and called "shockingly high" on Thursday.

Trump has ratcheted up his criticism of China's massive trade surplus with the United States - $ 34.6 billion in September - calling it "embarrassing" and "horrible" last week.

But many long-standing concerns that US businesses have in China remain, including unfettered access to the China market, cybersecurity and the growing presence of China's ruling Communist Party inside foreign firms.

"This (deal) shows that we have a strong, vibrant bilateral economic relationship, and yet we still need to focus on levelling the playing field, because U.S. companies continue to be disadvantaged doing business in China," William Zarit, chairman of the American Chamber of Commerce in China, told Reuters.

US tech companies like Facebook Inc and Google are mostly blocked in China. Automakers Ford Motor Co and General Motors must operate through joint ventures, while Hollywood movies face a strict quota system.
Pump it up
As is often the case during state visits, many of the deals were packaged as "non-binding" agreements, gave scant details or rolled over existing tie-ups, helping pump up the headline figure. Qualcomm signed non-binding deals worth $12 billion with Xiaomi, OPPO and Vivo, three Chinese handset makers the firm said it had "longstanding relationships" with. Qualcomm already earns more than half of its revenues in China.Boeing signed $ 37 billion in commercial deals, although initial details were scarce.

"Interesting to see how many of those are past agreements/purchase orders repackaged. Beijing is a master of selling the same agreement 10 times," former Mexican ambassador to China Jorge Guajardo posted on Twitter.

Trump did, however, press Xi hard on improving the trade balance between the two countries on Thursday.

"The United States has to change its policies because they have gotten so far behind on trade with China and frankly with many other countries," he told reporters, adding previous US administrations had allowed it to get "out of kilter".

"We have to fix this," he said. Asked whether the big package of deals would go some way towards helping fix American trade concerns in China, executives were cautiously optimistic.

"Generally, the sense was that this is all a good thing, and that's great," said Gentry Sayad, a Shanghai-based lawyer who took part in the delegation in Beijing. "Now let's see what really happens."