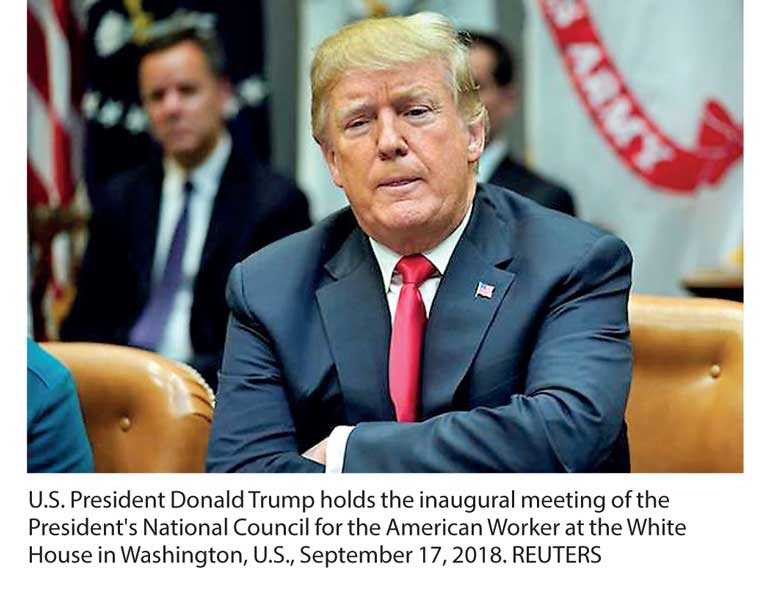 WASHINGTON (Reuters): US President Donald Trump has directed the Justice Department to immediately declassify more information related to the investigation into possible election meddling by Russia, the White House said on Monday.

Trump's demands mark his latest effort to turn up the heat on the Justice Department, whom he and his Republican allies have accused of running a tainted probe into Russian interference in the 2016 US presidential election.

Among the documents Trump ordered the Justice Department and the director of national intelligence to make public are 20 additional pages of FBI surveillance warrant applications related to his former campaign adviser Carter Page.

Trump also ordered the release of FBI interview reports with Justice Department official Bruce Ohr related to the Russia probe, and FBI interview reports related to the Page surveillance warrant applications, White House spokeswoman Sarah Sanders said in a statement.

Finally, Trump directed the Justice Department to release, without redactions, text messages relating to the Russia probe from former FBI Director James Comey, former FBI Deputy Director Andrew McCabe and other officials, including FBI agent Peter Strzok.

Trump fired Comey in May 2017, originally citing the Russia probe, and then saying that the firing was not "because of the phoney Russia investigation." McCabe was fired in March by Attorney General Jeff Sessions. Strzok was also recently fired, and has been criticised for sending texts disparaging Trump as a presidential candidate.

Democrats say that Trump and his allies are politicising a law enforcement investigation in order to protect the White House.

A spokeswoman for the FBI declined to comment on Trump's directive. The Justice Department said it was working to comply with the order.

But one source familiar with the process, speaking on condition of anonymity, said neither the Justice Department nor the FBI had any idea how the declassification process was supposed to work in this case – suggesting Trump's order had taken them by surprise.

Representative Adam Schiff, the top Democrat on the House of Representatives Intelligence Committee, sharply criticised Trump.

"President Trump, in a clear abuse of power, has decided to intervene in a pending law enforcement investigation by ordering the selective release of materials he believes are helpful to his defence team and thinks will advance a false narrative," Schiff said.