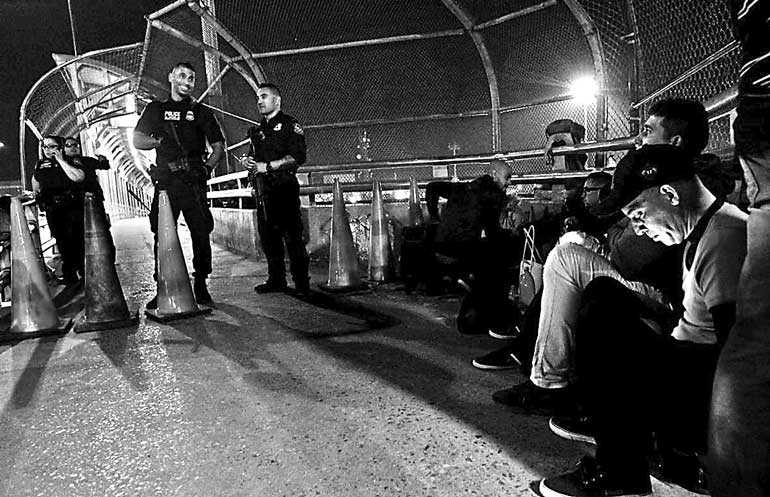 Washington/Pijijiapan, Mexico (Reuters): US President Donald Trump's administration may send up to 1,000 active-duty troops to the US-Mexico border, officials said on Thursday, as Trump hammered away at the issue of illegal immigration two weeks ahead of congressional elections.

Trump's threat was sparked by the advance of a caravan of Central American migrants trekking through Mexico, headed toward the United States.

"I am bringing out the military for this National Emergency. They will be stopped!" Trump wrote on Twitter.

But the migrants appeared undeterred on Thursday night as several thousand of them bedded down more than 1,000 miles (1,610 km) from the US border, in the town of Pijijiapan in Mexico's southern Chiapas state, after hiking hours from their last stop.

"Whatever Trump may say, he's not going to hold us back," said Denis Omar Contreras, a caravan organiser from Honduras, who plans to help lead the group to northern Mexico. Many said the fear of returning to a violent homeland loomed larger than the president's threats.

"We've come fleeing our country. If we return to Honduras, the gangs will probably kill us," he said.

Trump and his fellow Republicans have sought to make the caravan and immigration into major issues before the Nov. 6 elections, in which Republicans are battling to keep control of Congress.

Trump, who has maintained a hard line on immigration since taking office last year, is considering a plan to ban entry of migrants at the southern border and deny them asylum, according to media reports.

The reports offered few details. A White House official said "a wide range of administrative, legal and legislative options" were being considered, but that no decisions had been made.

The possibility of executive action to lock out any migrants in the caravan and the likely positioning of more soldiers at the US border with Mexico could energise Trump supporters at the ballot box. Any ban would face likely legal challenges.