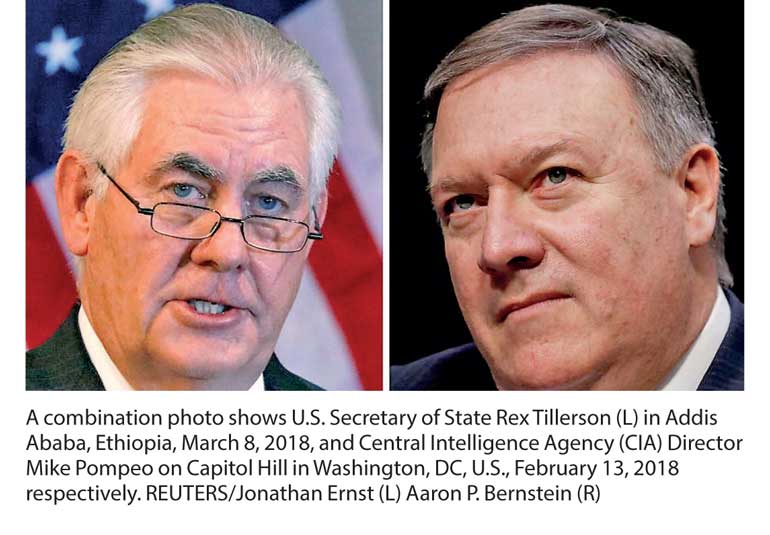 WASHINGTON (Reuters): U.S. President Donald Trump fired Secretary of State Rex Tillerson on Tuesday after a series of public rifts over issues including North Korea and Russia, replacing his chief diplomat with loyalist CIA Director Mike Pompeo.

The biggest shakeup of Trump's Cabinet since he took office more than a year ago, which the president announced on Twitter, comes as the administration prepares for an unprecedented meeting with the leader of North Korea.

Trump tapped the CIA's deputy director, Gina Haspel, to replace Pompeo at the intelligence agency.

Tillerson's departure caps months of tensions between the Republican president and the 65-year-old former Exxon Mobil chief executive.

On Monday Tillerson blamed Russia for the poisonings in England of a former Russian double agent and his daughter. Earlier, White House press secretary Sarah Sanders refrained from saying Moscow was responsible.

Tillerson was reported to have privately called Trump a"moron" in July after the president suggested a 10-fold increase in the U.S. nuclear arsenal. Tillerson declined to directly address whether he had made the comment, although a State Department spokeswoman later issued a denial.

A senior White House official said Trump asked Tillerson to step down on Friday but did not want to make it public while he was on a trip to Africa. Trump's announcement came only a few hours after Tillerson landed in Washington after a trip that had been cut short.

The official said Trump works well with Pompeo, a former Republican congressman from Kansas, and wanted him in place before the U.S. president's planned talks with North Korean leader Kim Jong Un and trade negotiations.

Tillerson had no diplomatic or political experience before becoming secretary of state. He appeared out of the loop last week when Trump announced he would meet with North Korea's Kim.