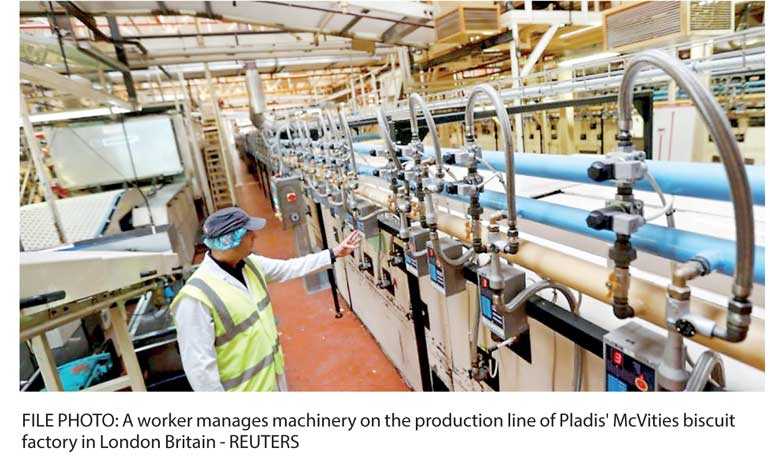 LONDON (Reuters): British industrial output barely rose in March, confirming a glum first quarter for the economy that looks likely to scupper a Bank of England interest rate hike later on Thursday.

The data, released along with figures for the construction industry and overseas trade, did nothing to alter the picture of an economy that has struggled for momentum in recent months.

While heavy snow storms swept through Britain in early March, the Office for National Statistics (ONS) stuck with its earlier judgment that this had little overall impact on the economy's performance in the first three months of 2018.

The ONS said industrial output inched up by 0.1% month-on-month in March, the same pace as in February and slightly below the consensus for growth of 0.2% in a Reuters poll of economists.

British data have mostly soured over the past month, forcing investors to ax widespread bets that the BoE will raise interest rates this month.

The BoE, which did not have early access to Thursday's data, announces its decision at 1100 GMT.

Almost all economists polled by Reuters think the weak run of data will dissuade the central bank from raising rates this time, at least until August.

"Today's figures support previous estimates showing the economy was very sluggish in the first quarter of 2018, with little impact overall from the bad weather," ONS statistician Rob Kent-Smith said.

A lack of clarity around Britain's terms of departure from the European Union in less than a year, as well as a slowing euro zone economy, are among reasons cited for Britain's disappointing performance of late.

The ONS said the impact from Thursday's data on its preliminary estimate of first quarter economic growth — which showed only a 0.1% quarter-on-quarter increase — was negligible.

Manufacturing output, which was a bright spot last year thanks to the strong global economy, edged lower for a second month running, dropping by a monthly 0.1% after a 0.2% fall in February.

Economists had expected a fall of 0.2%.

Separate ONS data showed Britain's goods trade deficit with the rest of the world increased to 12.287 billion pounds in March from 10.414 billion pounds in February — at the top end of forecasts that had pointed to a gap of 11.25 billion pounds.

Nonetheless, the ONS indicated that net trade was likely make a very small positive contribution to economic growth in the first quarter.

The ONS also released figures for construction output, which fell 2.3% on the month in March, after a fall of 1.0% in February — more or less as expected in the Reuters poll.
On the year, construction output was down 4.9% in March, the biggest annual drop since January 2013.