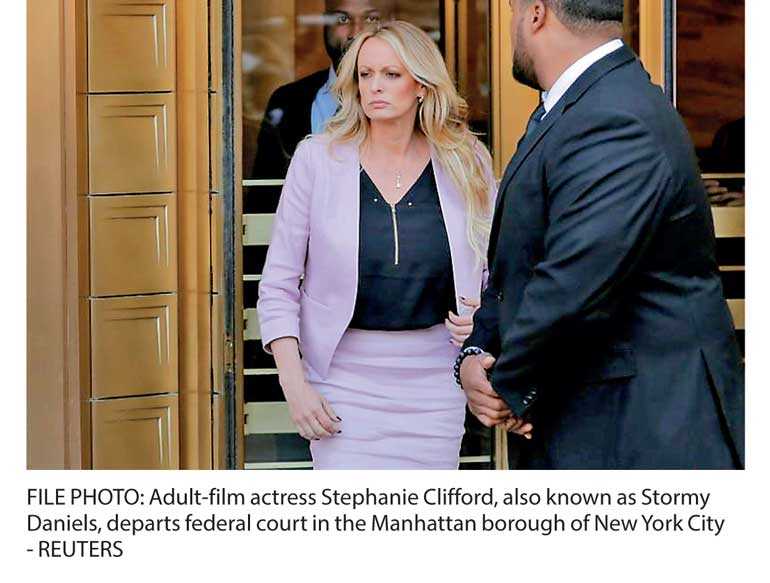 LOS ANGELES (Reuters): The husband of adult-film actress Stormy Daniels, whose allegation of a sexual encounter with US President Donald Trump made her a household name, has filed for divorce in Texas, accusing her of marital infidelity, court records showed on Monday.

Glendon Crain also asked for and was granted a temporary restraining order to prevent his estranged wife, whose real name is Stephanie Clifford, from taking their seven-year-old daughter on her nationwide bus tour of strip clubs, according to the documents.

The restraining order, issued by a Texas district judge in Kaufman County, bars Daniels from any contact with the child or access to the family's home and cars in the Dallas suburb of Forney. She also is prohibited from transferring or "encumbering" any assets of either party's accounts.

The judge set a hearing for Friday on whether to extend the terms of the order.

Crain's petition cites irreconcilable differences and adultery as grounds for divorce, without giving details. It seeks full custody of the couple's daughter, as well as child support, possession of the house and a "disproportionate share" of the couple's assets.

The petition and restraining order, both dated July 18, were obtained by Reuters from the court by request.

The divorce action first came to light in a Twitter message on Monday from Daniels' attorney, Michael Avenatti, who "vehemently disputed" the filing's accuracy. He made no mention of the restraining order.

"My client Stormy Daniels and her husband Glen have decided to end their marriage," Avenatti tweeted. "Stormy's daughter remains her number one priority. She kindly asks for privacy for the sake of her family." Avenatti did not respond to a Reuters request for further comment.

According to the petition, the couple married in November 2015, five years after the birth of their daughter.

Various media reports, including the New York Daily News, say Crain, 41, is Daniels' third husband and describe him as a heavy-metal rock drummer who also has worked in the adult entertainment business and gone by the name of Brendon Miller.

Daniels, 39, ignited a legal imbroglio and gained international attention by asserting publicly that she had a sexual encounter with Trump in 2006, a decade before he was elected president.

Daniels has filed suit seeking to void a non-disclosure agreement she signed the month before the 2016 presidential election in exchange for a $130,000 payment from Trump's longtime personal lawyer, Michael Cohen, to keep her story secret. Daniels also has sued Trump for defamation.

Trump has denied having had an affair with Daniels, saying she was paid to stop "false and extortionist accusations."

Critics of the president have argued that the Federal Election Commission should investigate the payment as a potential violation of campaign finance laws.

The divorce filing said Daniels and Crain separated on July 11, the day before Daniels was arrested at a strip club in Columbus, Ohio, accused of making improper physical contact during a performance. The charges were dismissed.