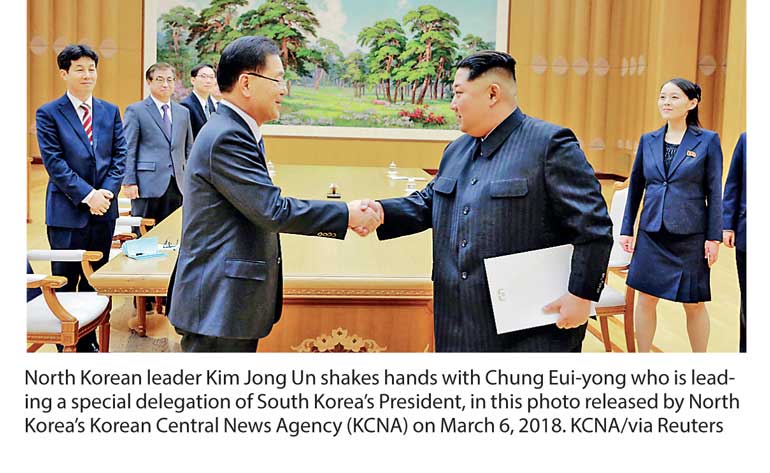 SEOUL (Reuters): A South Korean delegation had a first-ever meeting with North Korean leader Kim Jong Un on Monday and they hoped to encourage Pyongyang and the United States to talk, officials said.

Both North Korea and the United States have expressed a willingness to hold talks, but the U.S. position has been that they must be aimed at North Korea's denuclearisation, something Pyongyang has rejected.

North Korea, which has been developing nuclear-tipped missiles capable of reaching the United States, has vowed never to give up what it calls an essential deterrent against U.S. hostility.

Pyongyang is also concerned about joint U.S.-South Korea military exercises, which it sees as preparations for war.

South Korean officials have said the drills will restart next month as planned, after being postponed for the Winter Olympics held last month in South Korea.

The Pentagon nevertheless said it was "cautiously optimistic" about the North-South talks, which resumed in January.

"Our job is to make sure that we maintain those military operations to defend the Korean peninsula and we will (stand) shoulder to shoulder with our South Korean partners," Pentagon spokesman Colonel Robert Manning told reporters.

"But we are cautiously optimistic and obviously we encourage the dialogue to take place," Manning added.

The 10-member South Korean delegation, led by National Security Office head Chung Eui-yong, was greeted by North Korean officials after landing in Pyongyang, said Kim Eui-kyeom, a spokesman for South Korea's presidential office.

The welcoming delegation included Ri Son Gwon, chairman of the Committee for the Peaceful Reunification of the Country, and Kim Yong Chol, who heads the United Front Department, the North Korean office responsible for handling inter-Korean affairs. Both visited South Korea during the Olympics.

The South Korean delegation was later invited to join Kim Jong Un for dinner, the South Korean spokesman added.

A South Korean official said he understood members of the delegation were the first South Korean officials to meet Kim, who inherited the leadership from his father Kim Jong Il in late 2011.

"We will deliver President Moon Jae-in's wish to bring about denuclearisation of the Korean peninsula and permanent peace by extending the goodwill and better inter-Korean relations created by the Pyeongchang Winter Olympics," Chung said before heading to North Korea.

Chung's team includes National Intelligence Service chief SuhHoon and Vice Unification Minister Chun Hae-sung.

Seoul hopes the visit will create "a positive atmosphere", Unification Ministry spokesman Baik Tae-hyun said.

Chung and Suh are due to fly to Washington later in the week to brief U.S. officials on their discussions in the North.