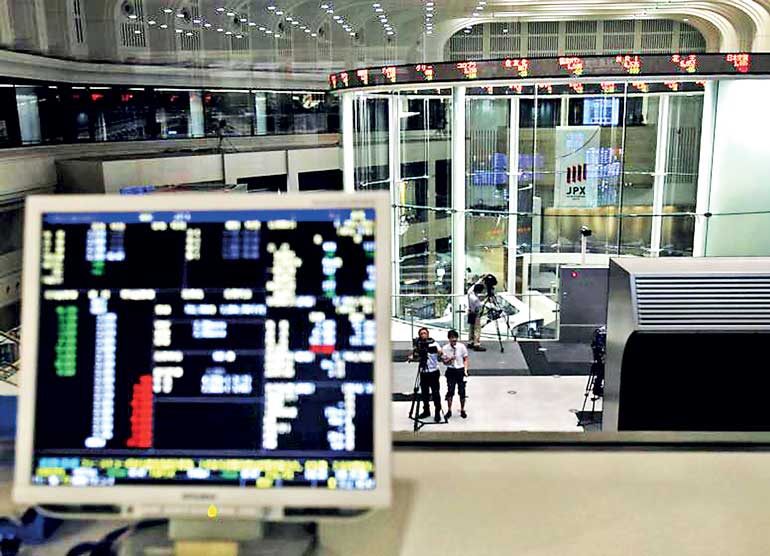 London (Reuters): Global shares fell and the dollar dipped against the Japanese yen on Wednesday as still-simmering tension over the Korean peninsula kept investors wary of taking on risk.

European and Asian shares dropped after the S&P 500 suffered its biggest one-day fall in three weeks on Tuesday as U.S. investors sold in reaction to North Korea's sixth and biggest nuclear weapons test on Sunday.

These concerns helped push benchmark 10-year U.S. Treasury yields to their lowest in almost 10 months and they stayed close to those levels on Wednesday.

European markets had appeared largely to shrug off Pyongyang's latest test by Tuesday, focusing instead on Thursday's meeting of European Central Bank policymakers, which is expected to yield some clues as to when they will begin to scale-back monetary stimulus. But on Wednesday the potential for conflict over North Korea was back to the fore.

South Korean President Moon Jae-in told his Russian counterpart Vladimir Putin at an economic summit in Vladivostok that the situation on the Korean peninsula could become unpredictable if Pyongyang did not halt its provocative actions.

Separately, a top North Korean diplomat warned on Tuesday his country is ready to send "more gift packages" to the United States.MSCI's broadest index of Asia-Pacific shares outside Japan fell 0.5% and Tokyo's Nikkei hit a four-month low and closed down 0.1%. South Korea's KOSPI index ended down 0.3% at a near four-week low.

European shares opened lower. The pan-European index fell 0.3%, with an index of banks .SX7P losing 0.5%.

The dollar dipped 0.1% against a basket of currencies and was down 0.2% versus the yen, which investors often seek during uncertain times.

Japan is the world's largest net creditor country, and traders assume Japanese repatriation from foreign countries will eclipse foreign investors' selling of Japanese assets. "The market still wants to buy yen every time there's a North Korea story, so we're stuck in this pattern," said Bart Wakabayashi, Tokyo branch manager of State Street.The euro was up 0.1% at $1.1925.

Safe-haven government debt was against in demand. Ten-year Treasury yields were flat at 2.07 percent, having fallen as far as 2.065 percent on Tuesday.

Tuesday's fall in treasury yields also followed cautious comments from Fed policymakers which investors perceived as making a third interest rate rise this year unlikely.

Indeed, the average yield on local currency emerging market sovereign debt dropped below 6% for the first time since February 2015.

Fed Governor Lael Brainard said on Tuesday the central bank should be cautious about tightening policy further until it was clear inflation was heading towards target.

German 10-year yields, the euro zone benchmark, hit their lowest in a week at 0.325%.

"The 10 basis point fall in Treasury yields is clearly not something the European market can ignore," said Mizuho rates strategist Antoine Bouvet. "The market's also taking a bit of view on what the U.S. Federal Reserve will do next."

Gold, another asset sought in troubled times, edged down 0.1% to $1,337 an ounce after touching $1,344 on Tuesday, its highest since September 2016.

Oil prices held steady with many U.S. refiners still working below capacity after Hurricane Harvey hit Texas and Louisiana and as Hurricane Irma headed towards the Caribbean.

Brent crude, the international benchmark, last traded unchanged at $53.38 a barrel.