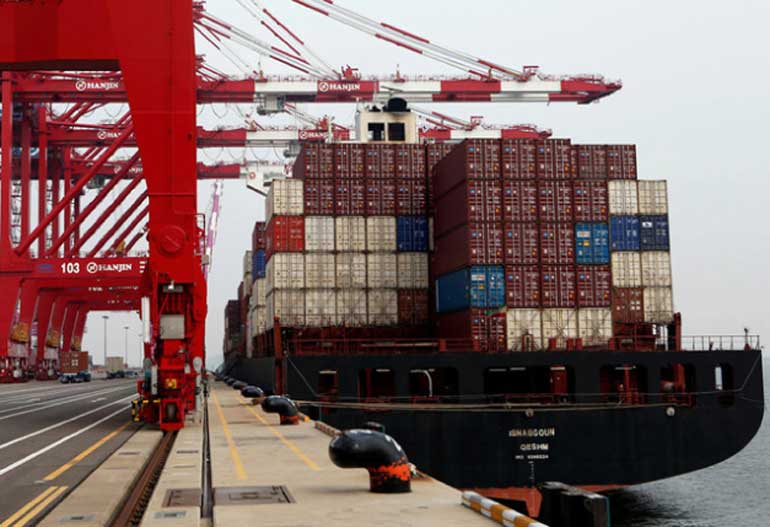 Giant cranes are seen at the Hanjin Shipping container terminal at Incheon New Port in Incheon, South Korea –REUTERS/File Photo
Seoul (Reuters): South Korean exports grew less than expected in March, adding to worries about the outlook for global demand amid growing fears of a US-China trade war and a resurgence in protectionism.

Booming demand for South Korean memory chips and computers across China and Europe lifted March exports, while shipments to the United States fell amid rising US protectionism, resulting in a smaller trade surplus with Washington.

March exports grew 6.1% to $ 51.6 billion from a year earlier, below 7.5% seen in a Reuters survey but outperforming a revised 3.9% expansion in February, government data showed on Sunday.

Imports increased 5% to $ 44.7 billion, less than the 6.2% growth economists had expected and compared with a revised 14.9% in February.

That resulted in a trade surplus of $ 6.9 billion, up from $ 3.2 billion in the previous month.

The soft February readings were likely skewed by the long Lunar New Year holiday which fell in the middle of the month this year but in late January last year.

Exports grew 10.3% in January-March combined from a year earlier, slower than the 14.6% expansion seen during the same period in 2017.

"Exports growth is steady, it's likely to continue to post single-digit expansion. But there's dangers of a global trade war, a downside risk to Korea exports," said Park Sang-hyun, a Seoul-based economist at HI Investment & Securities.

Shipments to the United States declined 1% in the first 20 days of March from a year earlier even as Korean memory chips sold well, as American demand for South Korean cars were sluggish.

Exports to China and the European Union jumped 16.6% and 24.2%, respectively. South Korea's trade surplus with the United States stood at $ 1.05 billion as of March this year, down by about 41.5% from the same time last year amid ongoing efforts by Seoul to import more from the United States in the past year. Korea's trade ministry data shows that a drop in car exports combined with a steady increase in imports of US beef, oranges and aircraft engines have resulted in a decline in the trade surplus with the United States.

The Bank of Korea expects the trade-reliant economy to expand by 3% this year after 3.1% growth in 2017, the fastest expansion since it grew 3.3% in 2014.

However, policymakers are wary of risks to exports as the Trump administration begins rolling out a series of punitive trade measures which would hit countries such as South Korea and its biggest trading partner, China.

The United States and South Korea agreed last week to revise their six-year-old free trade agreement with a side deal to deter competitive currency devaluation by Seoul and give more access for US automakers and drugmakers to the South Korean market.