Opposition holds nationwide day of protest
Navalny appeared briefly at Moscow protest
Russia holds presidential election on March 18
Moscow (Reuters): Russian police wrestled opposition leader Alexei Navalny into a patrol wagon on Sunday, moments after he appeared at a rally to urge voters to boycott what he said would be a rigged presidential election in March.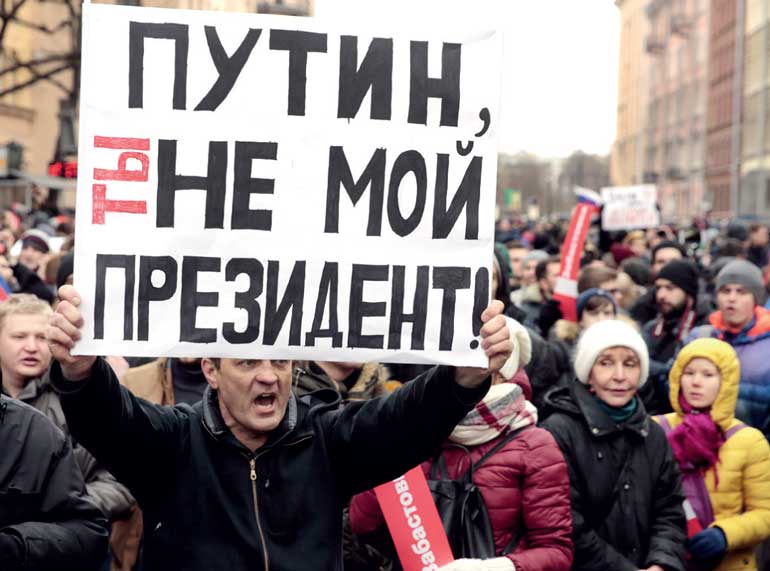 Supporters of Russian opposition leader Alexei Navalny attend a rally for a boycott of a March 18 presidential election in St. Petersburg, Russia January 28, 2018. The placard reads "Putin, you are not my president". REUTERS
Navalny has little chance of influencing the election, likely to be won comfortably by President Vladimir Putin, but his ability to use social media to mobilise crowds of mostly young protesters in major cities has irked the Kremlin.

The numbers who showed up at protests across Russia on Sunday - some shouting "Putin is a thief" - were lower than previous demonstrations Navalny had staged, according to estimates from Reuters reporters, indicating the momentum may have shifted away from him. Video footage posted on social media showed Navalny appear on Moscow's main thoroughfare, Tverskaya Street, a few hundred metres (yards) from the Kremlin, to join several hundred supporters taking part in the protest, which the authorities had said was illegal.

He had only walked a short distance when he was surrounded by helmet-clad police officers. They grabbed him and forced him to the ground on the pavement, and then dragged him feet first into the patrol wagon, the video footage showed.

Navalny's personal Twitter feed carried a post to his followers saying he had been detained. "That does not matter. Come to Tverskaya. You're not coming out for me, but for your future," the post said.

He was taken to a police precinct in central Moscow, Navalny's Internet site reported. Police said in a statement he would be charged with violating laws on holding demonstrations. The maximum penalty Navalny faces for the offence is 30 days in jail.

Navalny emerged as a threat to the Kremlin's tight grip on power on June 12 last year, when thousands of his followers defied police prohibitions to protest in cities across Russia. The scale of the protests, some of the biggest in six years, took the Kremlin by surprise.

On Sunday, several hundred people gathered in Moscow's central Pushkin square, ignoring police appeals over a loud-hailer for them to disperse.

Hundreds of people also protested in St. Petersburg, Russia's second-biggest city, in Yekaterinburg in the Ural mountains, and other major centres.