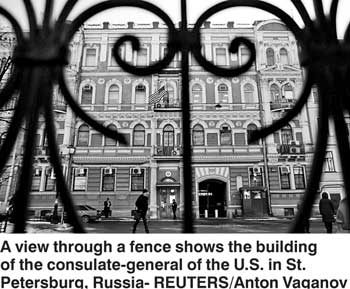 MOSCOW (Reuters): Russia expelled 60 US diplomats on Thursday and announced it would eject scores from other countries that have joined London and Washington in censuring Moscow over the poisoning of a spy.

The US ambassador was also ordered to shut the consulate in St Petersburg, in Russia's retaliation for the biggest expulsion of diplomats since the Cold War.

The White House said Moscow's decision marked a further deterioration in the US-Russia relationship.

"Russia's response was not unanticipated and the United States will deal with it," the White House said in a statement without elaborating.

The expulsions precisely mirrored steps taken by Western governments against Russian diplomats and appeared to show Russia was not seeking to escalate the standoff over the nerve agent poisoning of Sergei Skripal and his daughter Yulia in Salisbury, England, on March 4.

The State Department, however, indicated earlier that the United States could retaliate for Russia's "regrettable, unwarranted action," raising the possibility that the crisis could intensify.

"We reserve the right to respond further. We're reviewing our options," said State Department spokeswoman Heather Nauert, who charged that the attack on the Skripals violated an international chemical weapons ban. She declined to discuss what additional measures the Trump administration could take.

Britain has blamed Russia for the poisoning, and has been backed up by dozens of Western countries which have ordered Russian diplomats to leave. The United States charges that the 60 Russians that it targeted are intelligence officers operating under diplomatic cover.

"The United States, in concert with many countries, made the decision to kick out Russian spies," said Nauert. "We don't see this as a diplomatic tit-for-tat."

Moscow denies involvement in the attack on the Skripals.

Russian President Vladimir Putin, facing a stuttering economy and an unusual show of Western unity that included even states traditionally friendly towards Moscow, appeared to have stuck to the diplomatic playbook with the symmetrical response.