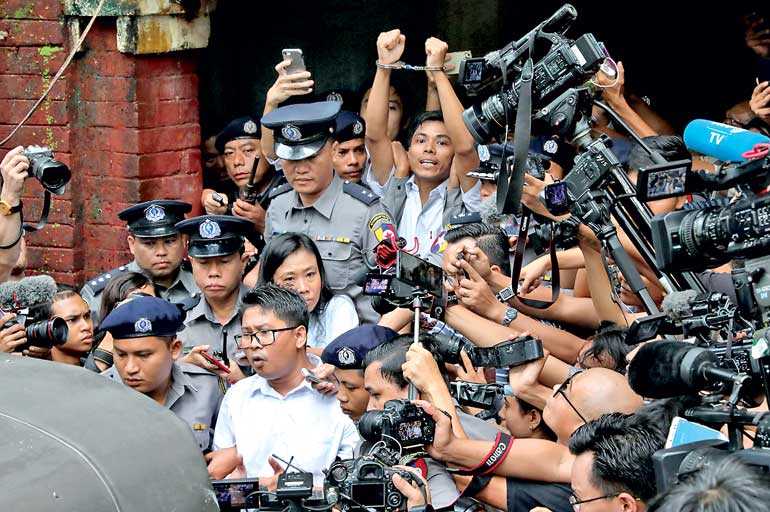 Detained Reuters journalists Wa Lone and Kyaw Soe Oo leave Insein court after listening to the verdict in Yangon, Myanmar September 3, 2018. REUTERS
YANGON (Reuters): A Myanmar judge on Monday found two Reuters journalists guilty of breaching a law on state secrets and jailed them for seven years, in a landmark case seen as a test of progress towards democracy in the Southeast Asian country.

Yangon northern district judge YeLwin said Wa Lone, 32, and KyawSoeOo, 28, breached the colonial-era Official Secrets Act when they collected and obtained confidential documents.

"The defendants ... have breached Official Secrets Act section 3.1.c, and are sentenced to seven years," the judge said, adding that the time served since they were detained on Dec. 12 would be taken into account. The defence can appeal the decision to the regional court and then the Supreme Court.

The two reporters had pleaded not guilty and told the court police planted documents on them in the course of their work in reporting on Myanmar's violence-plagued Rakhine State.

Press freedom advocates, the United Nations, the European Union and countries including the United States, Canada and Australia had called for the journalists' acquittal.

"Today is a sad day for Myanmar, Reuters journalists Wa Lone and KyawSoeOo, and the press everywhere," Reuters editor in chief Stephen J Adler said in a statement.

"We will not wait while Wa Lone and KyawSoeOo suffer this injustice and will evaluate how to proceed in the coming days, including whether to seek relief in an international forum."

The reporters had told the court two police officials handed them papers at a restaurant in the city of Yangon moments before other officers arrested them.

One police witness testified the restaurant meeting was a set-up to entrap the journalists to block or punish them for their reporting of a mass killing of Rohingya Muslims in Rakhine.

At least 50 people were packed into the small court Monday, with many standing outside. Judge Ye Lwin read out a summary of witness testimony for about an hour before delivering his verdict.

He said it had been found that "confidential documents" found on the two would have been useful "to enemies of the state and terrorist organisations". Documents in their possession and on their phones were "not public information".

As the judge spoke, several reporters cried as they took notes.

KyawSoeOo's wife, Chit Su Win, burst into tears after the verdict, and family members had to support her as she left the court.

Wa Lone shook hands with supporters, telling them not to worry. Wearing handcuffs and flanked by police, he addressed a cluster of friends and reporters.

"We know what we did. We know we did nothing wrong. I have no fear. I believe in justice, democracy and freedom," he said.

KyawSoeOo also said the reporters had committed no crime and that they would maintain their fight for press freedom.

"What I want to say to the government is: you can put us in jail, but do not close the eyes and ears of the people," he said. Wa Lone and KyawSoeOo– whoboth have young daughters and have not seen their families outside of prison visits and court hearings for nearly nine months – werethen taken back to prison.

KyawSoeOo has a three-year-old daughter and WaLone's wife, Pan Ei Mon, gave birth to their first child last month.
---
Britain calls for immediate release of Reuters journalists jailed in Myanmar
London (Reuters): Britain on Monday called for the immediate release of two Reuters jailed in Myanmar for their reporting of the Rohingya crisis, saying that the verdict undermined press freedom in Myanmar.

A Myanmar judge has found Wa Lone and Kyaw Soe Oo guilty of breaching a law on state secrets and jailed them for seven years.

"As our Ambassador to Burma, who attended the hearing, has said, we are extremely disappointed with this verdict and sentencing," British Prime Minister Theresa May's spokesman said. "And we call for the journalists to be released immediately. In any democracy, journalists must be free to carry out their jobs without fear or intimidation. This verdict has undermined freedom of the media in Myanmar."