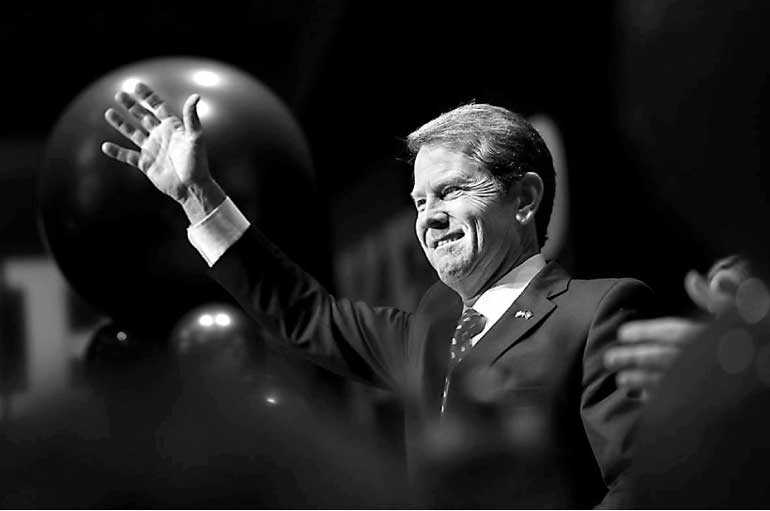 Following midterm elections, Republican gubernatorial candidate Brian Kemp reacts after appearing at his election night party in Athens, Georgia, U.S. November 7, 2018 - REUTERS
Reuters: High-profile US elections in Georgia, Florida and Arizona remained unresolved on Thursday, two days after the vote, with the prospect of legal challenges, recounts and ballot reviews setting the stage for possible weeks of uncertainty.

The still-undecided races will not tip the balance in either chamber of Congress but include contests in parts of the country important to the futures of both parties and potentially to President Donald Trump's re-election chances in two years.

In Georgia, where Republican Brian Kemp declared victory in the governor's contest on Wednesday on a narrow lead, campaign officials for Democrat Stacey Abrams on Thursday vowed to pursue litigation to ensure all votes are counted.In Florida's US Senate race, a lawyer for Democratic incumbent Bill Nelson said a recount could still deliver him a victory despite a slim lead for Republican Rick Scott.

The Florida governor's race between Republican Ron DeSantis and Democrat Andrew Gillum also appeared headed for an automatic recount, after DeSantis' lead narrowed on Thursday, despite Gillum having already conceded.

The hotly contested US Senate race in Arizona between two congresswomen, Democrat Kyrsten Sinema and Republican Martha McSally, appeared days away from a final call, with hundreds of thousands of ballots yet to be tallied. Sinema took a slight lead over McSally on Thursday night as more ballots were counted.

Democrats on Tuesday won their first majority in the US House of Representatives since 2010, while Republicans appeared likely to expand their two-seat advantage in the US Senate.

Another cluster of races in the lower house where votes are still being finalised could add to the Democrats' new majority, strengthening their hand as they seek to counter Trump's policies.

Republican US Representative Karen Handel conceded defeat to Democrat Lucy McBath, a gun control advocate, in a suburban Atlanta district on Thursday. Democrats also picked up two Republican districts in Washington State and New Mexico on Wednesday night, though Republicans held onto an open North Carolina district in a close race.

According to media outlet calls and the data company DDHQ, Democrats now have flipped 32 seats – nine more than they needed to take over the House – with seven Republican-held districts still too close to call, including four in California, where many ballots are yet to be counted.

Abrams is vying to become the first black woman elected to serve as governor of a US state.

The Georgia contest came under national scrutiny because of Kemp's role as the state's top election official. Voting rights groups and prominent Democrats accused the Republican of using his position to suppress minority votes, an allegation he strongly denied.

Kemp on Thursday said he had resigned as Georgia's secretary of state, saying the move would ensure "public confidence" in the final results, while freeing him to focus on preparing for his new role as governor.

The Abrams campaign told reporters that there were enough uncounted ballots to force a runoff. Under state law, if no candidate reaches 50% of the vote, the top two finishers advance to a second vote in December. The election included a third-party candidate.

Kemp's vote count stood at 50.33% as of Thursday, according to unofficial results.

In Florida, Scott's lead was narrowing on Thursday. Nelson trailed by around 17,300 votes, or 0.21%, below the state's 0.25 threshold for a hand recount.