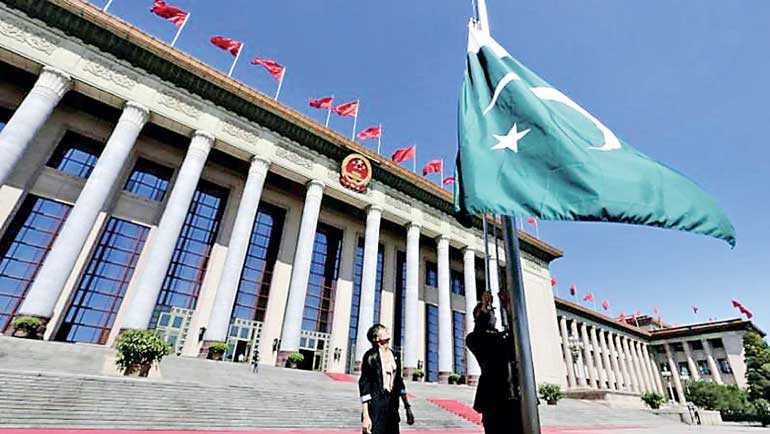 FILE PHOTO: A staff member raises Pakistan's flag in front of the Great Hall of the People ahead of a welcome ceremony for Pakistan's Prime Minister in Beijing - REUTERS
ISLAMABAD (Reuters): Pakistan expects to obtain fresh Chinese loans worth $1-2 billion to help it avert a balance of payments crisis, Pakistani government sources said, in another sign of Islamabad's growing reliance on Beijing for financial support.

Lending to Pakistan by China and its banks is on track to hit $5 billion in the fiscal year ending in June, according to recent disclosures by officials and Pakistan finance ministry data reviewed by Reuters.

The ramp up in China's lending comes as the United States is cutting aid to Pakistan following a fracture in relations between the on-off allies. In February, Washington led efforts that saw Pakistan placed on a global terror financing watchlist, drawing anger in Islamabad amid fears it will hurt the economy.

The new Chinese loans that are being negotiated will help bolster Pakistan's rapidly-depleting foreign currency reserves, which tumbled to $10.3 billion last week from $16.4 billion in May 2017.

The talks come only weeks after a group of Chinese commercial banks lent $1 billion to Pakistan's government in April.

The reserves decline and a sharp widening of Pakistan's current account deficit have prompted many financial analysts to predict that after the general election, likely in July, Islamabad will need its second International Monetary Fund (IMF) bailout since 2013. The last IMF assistance package was worth $6.7 billion.

Beijing's attempts to prop up Pakistan's economy follow a deepening in political and military ties in the wake of China's pledge to fund badly-needed power and road infrastructure as part of the $57 billion China-Pakistan Economic Corridor (CPEC), a key cog in Beijing's vast Belt and Road initiative.

"I think this month we will get that $1-2 billion," said a senior Pakistan government official, saying the funds will come from Chinese state-run institutions.

A second government official confirmed Pakistan was in "sensitive" talks with Beijing over extra funding for up to $2 billion.

Pakistan finance ministry officials did not respond to a request for comment.

China's finance ministry and central bank, who were faxed questions about the loans, did not immediately respond to requests for comment.

Although Pakistan's economic growth has soared to nearly 6 percent, the fastest pace in 13 years, the structural problems with the economy are coming to the fore. It is similar to 2013, when foreign currency reserves dwindled and Pakistan narrowly escaped a full-blown currency crisis.

"The current situation appears to be a replica of what we experienced in 2013, albeit on a slightly larger scale," said Yaseen Anwar, who was the governor of the central bank, the State Bank of Pakistan (SBP), back in 2013.

The darkening macroeconomic outlook prompted the IMF earlier this month to downgrade its economic growth forecast for Pakistan to 4.7 percent for the next fiscal year ending in June 2019, way below the government's own ambitious target of 6.2 percent.