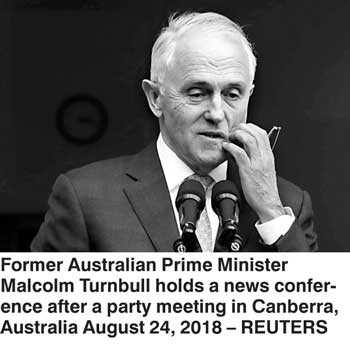 SYDNEY (Reuters): Almost three years since seizing power in a late-night coup, Malcolm Turnbull stood down on Friday after the wave of popularity that lifted him to power evaporated.

The 63-year-old former tech entrepreneur, merchant banker and lawyer assumed the national leadership in September 2015, winning a party-room vote he said was necessary because his more conservative predecessor languished in opinion polls.

Turnbull yielded to Australia's blood-in-the-streets political system on Friday after a majority of his colleagues called for a so-called spill, where the leadership of the Liberal party was declared vacant.

Turnbull, the fourth prime minister to be removed from office by their own party since 2010, did not contest the party-room vote, which was won by Treasurer Scott Morrison.

Raised by his father not far from Sydney's famous Bondi Beach, Turnbull was a Rhodes Scholar who made his name as an Oxford-trained lawyer in the 1980s.

He bought a A$500,000 ($366,000) investment in internet provider Ozemail before many people had their first email account and then cashed out for A$57 million shortly before the tech crash.

As prime minister, he famously earned the ire of US President Donald Trump during a "testy" first phone call as Turnbull pressed Trump to accept asylum seekers Australia had rejected.

An economic conservative but with liberal social views, he voted to make same-sex marriage legal in Australia.

But the one-time Goldman Sachs partner, dubbed "Mr Harbourside Mansion" by his internal opponents, struggled to shake a perception he was out of touch and couldn't translate his early personal popularity into votes for the party.

Turnbull barely survived his first and only election as leader, in 2016. His parliamentary majority tumbled from 35 to just one and problems with party unity began almost immediately.

"It damaged his image as a super election winner and it meant he only had a majority of one - so he was very vulnerable to anyone threatening to defect," said political analyst Rod Tiffen, an emeritus professor at the University of Sydney.

"The guiding factor in all his decision-making was to forestall a coup attempt from the right ... now the one thing he's been trying to avoid has come to pass," he said.

Turnbull's authority within his Liberal party, ranging from centrists to the harder right, was severely damaged and he repeatedly sought compromise positions on policies that included renewable energy targets.

His government was also upended by a bizarre citizenship crisis that ruled 15 lawmakers ineligible for office for holding dual nationalities and it has trailed the opposition Labor party for 37 consecutive fortnightly opinion polls.

The challenge eventually came from lawmaker Peter Dutton, a polarising former police officer who forged a hard-line reputation enforcing tough immigration policies.

Dutton presented Turnbull with the signatures of just over half of his parliamentary colleagues on Friday morning, petitioning the leader to hold a meeting in preparation for a leadership vote.

"I think it has been a challenging time to be Prime Minister but I'm very proud of our record," Turnbull told reporters in Canberra on Friday.

Any celebrations and recriminations will need to be swift, with the government required to hold an election against centre-left Labor, which is ahead in the polls, by May.

Turnbull's imminent resignation from parliament will trigger a by-election in his seat of Wentworth in Sydney's well-heeled inner east, where the former leader lives in a waterfront Tuscan-styled manor house.