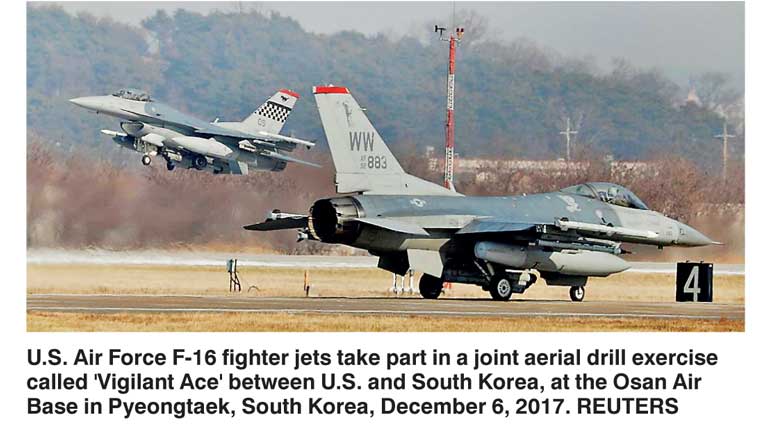 SEOUL (Reuters) - Two American B-1B heavy bombers joined large-scale combat drills over South Korea on Thursday amid warnings from North Korea that the exercises and U.S. threats have made the outbreak of war "an established fact".

The annual U.S.-South Korean "Vigilant Ace" exercises feature 230 aircraft, including a range of the U.S. military's most advanced stealth warplanes, and come a week after North Korea tested its most powerful intercontinental ballistic missile (ICBM) to date which it says can reach the mainland United States.

A spokesman for the North's foreign ministry blamed the drills and "confrontational warmongering" by U.S. officials for making war inevitable.

"The remaining question now is: when will the war break out?" the spokesman said late on Wednesday in a statement carried by North Korea's official KCNA news agency.

"We do not wish for a war but shall not hide from it."

China, North Korea's neighbour and lone major ally, again urged calm and said war was not the answser.

"We hope all relevant parties can maintain calm and restraint and take steps to alleviate tensions and not provoke each other," Chinese Foreign Ministry spokesman Geng Shuang said in a statement.

"The outbreak of war is not in any side's interest. The ones that will suffer the most are ordinary people." Tensions on the Korean peninsula have risen markedly in recent months after North Korea's latest missile and nuclear tests, conducted in defiance of U.N. Security Council resolutions and international condemnation.

On Wednesday, a U.S. B-1B bomber flew from the Pacific U.S.-administered territory of Guam to join the exercises, which will run until Friday. The flights by the B-1B, one of America's largest strike aircraft, have played a leading role in Washington's attempts to increase pressure on North Korea to abandon its weapons programmes. In September, B-1Bs were among a formation of U.S. military aircraft that flew further north up North Korea's coast than at any time in the past 17 years, according to the U.S. Pacific Command.

That prompted North Korea's foreign minister, Ri Yong Ho, to warn that the North could shoot down the U.S. bombers even if they did not enter North Korean airspace.