North Korea earthquake suggests sixth nuclear test as Trump, Abe discuss "escalating" crisis
Seoul (Reuters): Two shallow earthquakes shook North Korea on Sunday, suggesting it had detonated a sixth nuclear test device, hours after it said it had developed an advanced hydrogen bomb that possesses "great destructive power".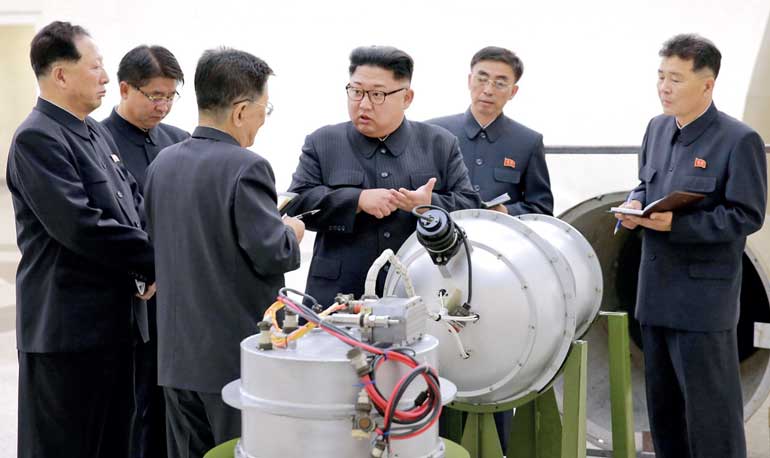 North Korean leader Kim Jong Un provides guidance on a nuclear weapons program in this undated photo released by North Korea's Korean Central News Agency (KCNA) in Pyongyang 3 September – KCNA via REUTERS
The earthquakes, the first of which neighbouring China described as a "suspected explosion" and the second as "collapse", struck 75 km north northwest of Kimchaek. Previous recent tremors in the region have been caused by nuclear tests, which if the case this time round, would be a direct challenge to US President Donald Trump, who hours earlier had talked by phone with Japanese Prime Minister Shinzo Abe about the "escalating" nuclear crisis in the region.

The first, more powerful quake measured magnitude 6.3 and was 10 km deep, the U.S. Geological Survey said, again suggesting a nuclear device. Such a magnitude would be its most powerful detonation yet.

Witnesses in the Chinese city of Yanji, on the border with North Korea, said they felt a tremor that lasted roughly 10 seconds, followed by an aftershock. China said it had detected a second, 4.6 magnitude quake with near identical coordinates eight minutes later.

The hydrogen bomb report by North Korea's official KCNA news agency comes amid heightened regional tension following Pyongyang's two tests of intercontinental ballistic missiles (ICBM) in July that potentially could fly about 10,000 km, putting many parts of the mainland United States within range.

Under third-generation leader Kim Jong Un, North Korea has been pursuing a nuclear device small and light enough to fit on a long-range ballistic missile, without affecting its range and making it capable of surviving re-entry into the Earth's atmosphere.

South Korea's military said the first earthquake "appeared to be manmade". A meeting of Seoul's National Security Council has been convened, national news agency Yonhap reported.

"I was eating brunch just over the border here in Yanji when we felt the whole building shake," Michael Spavor, director of the Paektu Cultural Exchange, which promotes business and cultural ties with North Korea, told Reuters from China. "It lasted for about five seconds. The city air raid sirens started going off."
Hydrogen bomb

Earthquakes triggered by North Korean nuclear tests have gradually increased in magnitude since Pyongyang's first test in 2006, indicating the isolated country is steadily improving the destructive power of its nuclear technology.

After the fifth nuclear test in September, the U.S. Geological Survey (USGS) measured a magnitude of 5.3. while South Korean monitors said the blast caused a 5.0 magnitude earthquake.

North Korea, which carries out its nuclear and missile programmes in defiance of UN Security Council resolutions and sanctions, "recently succeeded" in making a more advanced hydrogen bomb that will be loaded on to an ICBM, KCNA said.

"The H-bomb, the explosive power of which is adjustable from tens kiloton to hundreds kiloton, is a multi-functional thermonuclear nuke with great destructive power which can be detonated even at high altitudes for super-powerful EMP (electromagnetic pulse) attack according to strategic goals," KCNA said.

"All components of the H-bomb were homemade and all the processes ... were put on the Juche basis, thus enabling the country to produce powerful nuclear weapons as many as it wants," KCNA quoted Kim as saying.

Juche is North Korea's homegrown ideology of self-reliance that is a mix of Marxism and extreme nationalism preached by state founder Kim Il Sung, the current leader's grandfather. It says its weapons programmes are needed to counter US aggression.

North Korea offered no evidence for its latest claim, and Kim Dong-yub, a military expert at Kyungnam University's Institute of Far Eastern Studies in Seoul, was sceptical.

"Referring to tens to hundreds of kilotons, it doesn't appear to be talking about a fully fledged H-bomb. It's more likely a boosted nuclear device," Kim said, referring to an atomic bomb which uses some hydrogen isotopes to boost explosive yield.

A hydrogen bomb can achieve thousands of kilotons of explosive yield - massively more powerful than some 10 to 15 kilotons that North Korea's last nuclear test in September was estimated to have produced, similar to the bomb dropped on Hiroshima, Japan, in 1945.