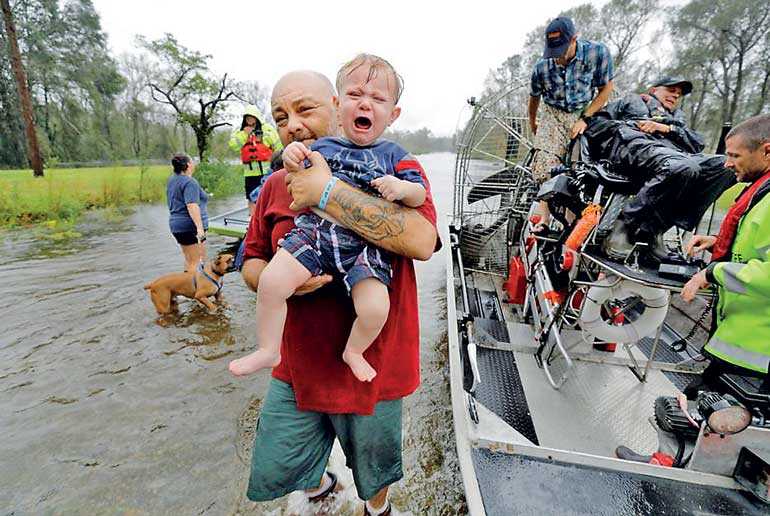 Wilmington/Wilson, N.C. (Reuters): Deadly storm Florence drenched North Carolina with more downpours on Sunday, cutting off the coastal city of Wilmington, damaging tens of thousands of homes and threatening worse flooding as rivers fill to the bursting point.

The death toll rose to at least 17. Florence, a onetime hurricane that weakened to a tropical depression by Sunday, dumped up to 40 inches (100 cm) of rain on parts of North Carolina since Thursday, and continued to produce widespread heavy rain over much of North Carolina and eastern South Carolina, the National Weather Service said.

"The storm has never been more dangerous than it is right now," North Carolina Governor Roy Cooper told a news conference. Many rivers "are still rising, and are not expected to crest until later today or tomorrow."

Some rivers were not expected to crest until Monday or Tuesday, the National Weather Service said.

More than 900 people were rescued from rising floodwaters and 15,000 remained in shelters in the state, Cooper said.

Many of those rescues took place on swift boats in Wilmington, a historic coastal city of about 117,000 people on a peninsula between the Cape Fear River and the Atlantic Ocean.

The National Weather Service issued a flash flood warning for the area until at least Monday morning and said up to 8 inches (20 cm) more rain could fall in some areas, creating an elevated risk for landslides in Western North Carolina.

Officials urged those who had evacuated to stay away.