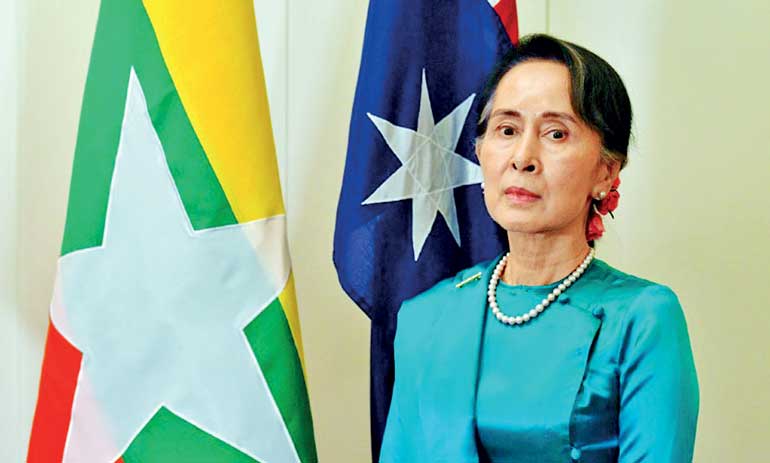 YANGON (Reuters): Myanmar's de facto leader Aung San Suu Kyi called on Sunday for her people to remain united, saying the Southeast Asian country faces "challenges" at home and abroad, as she marked two years since her party swept to power in a historic vote.

In a televised speech, Suu Kyi made only a passing reference to the crisis in Rakhine state, where her government faces mounting international condemnation for a military operation against Rohingya Muslims that has sent nearly 700,000 members of the minority community fleeing to Bangladesh.

The Nobel Peace Prize laureate has also struggled to match the sky-high expectations that swept her National League for Democracy (NLD) to power in 2016, and is struggling to rebut criticism over slower economic growth and continued fighting with ethnic armed groups.

In the televised address, Suu Kyi urged people to be united. "The world's focus in on Rakhine right now, but we also need to peacefully develop the country."

"We are facing challenges from inside and outside of the country, as we are struggling to develop politics, society and economy," she said.

She also urged people to "respect the intentions and vision of the international community." She did not elaborate.The civilian government led by Suu Kyi has no control over the military, which launched the crackdown in Rakhine in response to insurgent attacks on security forces in August.

The United States and United Nations have described the operation as ethnic cleansing of the Rohingya, which Myanmar denies.

Suu Kyi also talked about her number one priority – to end decades of fighting between ethnic rebels and the military, which has kept Myanmar in a state of near-perpetual civil war since independence in 1948.

"While building peace and stability is the most important requirement for our country, we need the strength of unity," she said.

Two ethnic armed groups in Myanmar signed a ceasefire with the government in February as Suu Kyi sought to revive the stuttering peace process. The Buddhist-majority country has seen the worst fighting with rebels in years since she took office.

Myanmar on Friday swore in a close ally of Suu Kyi as the country's new president after the outgoing president retired. Analysts said the move was unlikely to affect a delicate balance of power between Suu Kyi and the military.
---
UNHCR concerned over safety of 56 Rohingya refugees in stormy seas
Dhaka (Reuters): The UN High Commissioner for Refugees (UNHCR) said yesterday (2 April) it was concerned about the safety of 56 Rohingya refugees from Myanmar on a boat bound for Malaysia in stormy seas.

Some 700,000 Rohingya Muslims fled from their homes in Myanmar's Rakhine State into Bangladesh, after militant attacks in August sparked a military crackdown that the United Nations and Western countries have said constitutes ethnic cleansing. Myanmar rejects this view, saying its forces have been waging a legitimate campaign against "terrorists" who attacked government forces.

The boat, which a UNHCR spokesman said was believed to have set sail from Rakhine State last week, stopped at an island in southern Thailand on Saturday (31 March) evening after a storm.

It was the first Rohingya vessel, plying a route refugees have used for years to get to Southeast Asia, to be spotted off Thailand in more than a year. There are signs that overcrowding in Bangladeshi camps could prompt many others to make similarly perilous voyages.

"Given the poor weather conditions currently prevailing in the waters off the west coast of the Thailand-Malaysia border, we are concerned for the safety of the refugees," said Caroline Gluck, a UNHCR spokeswoman based in southeast Bangladesh. "If they are found to be in distress, we hope they will be rescued and allowed to disembark in accordance with international maritime law," she said in an email.

The boat was restocked with essential supplies in Thailand on Sunday (1 April) before setting back out to sea, on its way to Malaysia, Thai police said. The UNHCR said it was in touch with Malaysian maritime authorities and was ready to provide any necessary assistance to the refugees when they arrived.

Tens of thousands of Rohingya fled by sea following an outbreak of sectarian violence in Rakhine State in 2012, some falling prey to human traffickers. That exodus peaked in 2015, when an estimated 25,000 people fled across the Andaman Sea for Thailand, Malaysia and Indonesia. Rights groups expect another surge in Rohingya boats sailing for Southeast Asia, even if not at the levels of the past.