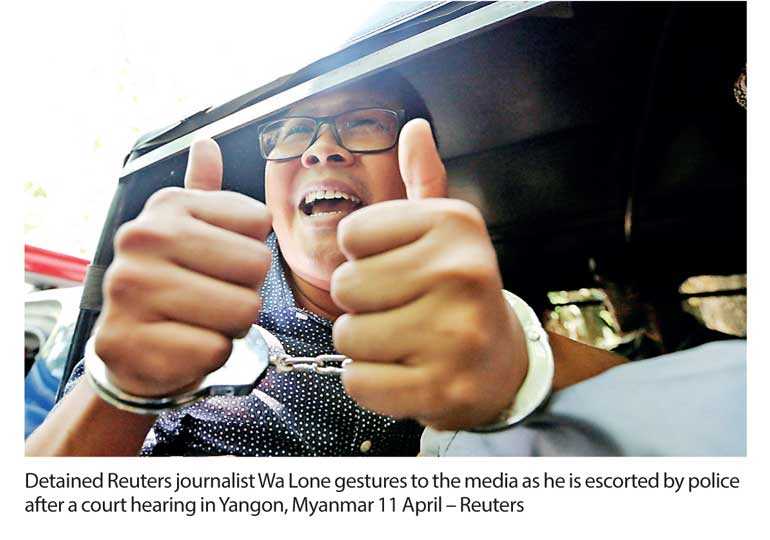 YANGON (Reuters): A judge on Wednesday rejected a request for dismissal of a case against two Reuters reporters jailed in Myanmar after being accused of possessing secret government papers.

A court in Yangon has been holding preliminary hearings since January to decide whether Wa Lone, who turned 32 on Wednesday, and Kyaw Soe Oo, 28, will be charged under the colonial-era Official Secrets Act, which carries a maximum penalty of 14 years in prison.

Judge Ye Lwin said that there was "a proper reason" for the accusations against the two reporters and therefore "they should not be released."In a statement, Reuters President and Editor-in-Chief Stephen J. Adler said: "We are deeply disappointed with the court's decision."

He added: "We believe that there are solid grounds for the court to dismiss this matter and to release our journalists. Wa Lone and Kyaw Soe Oo were reporting on issues in Myanmar in an independent and impartial way. They have not violated any laws in the course of their newsgathering and were simply doing their jobs. We will continue to do all we can to secure their release."
Defence and prosecution lawyers made legal arguments in front of the judge a week ago, after the defence filed a motion to have the case thrown out two weeks ago.

The reporters' lawyers had argued that the testimony from witnesses called by the prosecution was insufficient to charge the pair. They also pointed to what they said were inconsistencies in witness testimony and procedural mistakes made by the authorities during the arrest and subsequent searches.