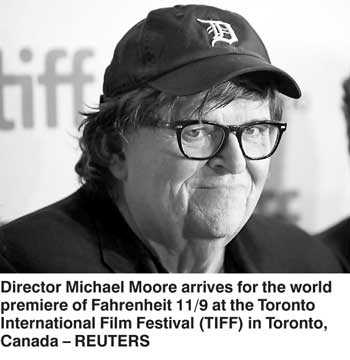 (Reuters): Provocative filmmaker Michael Moore said on Thursday he hoped his new documentary would mark "the beginning of the end" for the US presidency of Donald Trump.

The liberal activist said "Fahrenheit 11/9," which will get its world premiere at the Toronto film festival later on Thursday, was "a siren call" to what he called a "despairing, dispirited public."

"This film is the moment of truth we've all needed for some time, and I believe its release in theatres nationwide on Sept. 21 may well be the real beginning of the end for Donald J. Trump," Moore wrote on his website.

Moore, who won an Oscar in 2003 for his gun violence documentary "Bowling for Columbine," said the new film looks at the reasons why the United States elected the businessman and former reality TV star to the White House in November 2016 and "also (to) help show us the way out."

He also called the documentary a "story of hope," and urged voters to turn out for the November midterm congressional elections.

A trailer for the provocative, comedic documentary shows television and film clips of school shootings, white nationalist demonstrations, footage of Trump's public speeches, and interviews with ordinary Americans. It has the tagline, "This is the movie that will end the insanity."

It follows Moore's one-man show on Broadway last year in which he used his satirical blend of humour to target Trump and encourage liberals to turn resentment at the Republican political agenda into resistance.

"Fahrenheit 11/9" takes its title from the early hours of Nov. 9, 2016, when Republican candidate Trump was officially declared the victor over Democrat Hillary Clinton. It is also a play on Moore's scathing 2004 "Fahrenheit 9/11" about the Sept. 11 2001 attacks on New York and Washington DC and the subsequent US led wars in Afghanistan and Iraq.

The documentary will premiere in Toronto the same week that the New York Times printed an anonymous opinion column in which the writer described "a quiet resistance" to Trump within his own administration, and advance excerpts of a new book by journalist Bob Woodward portraying Trump as prone to impulsive decision-making.