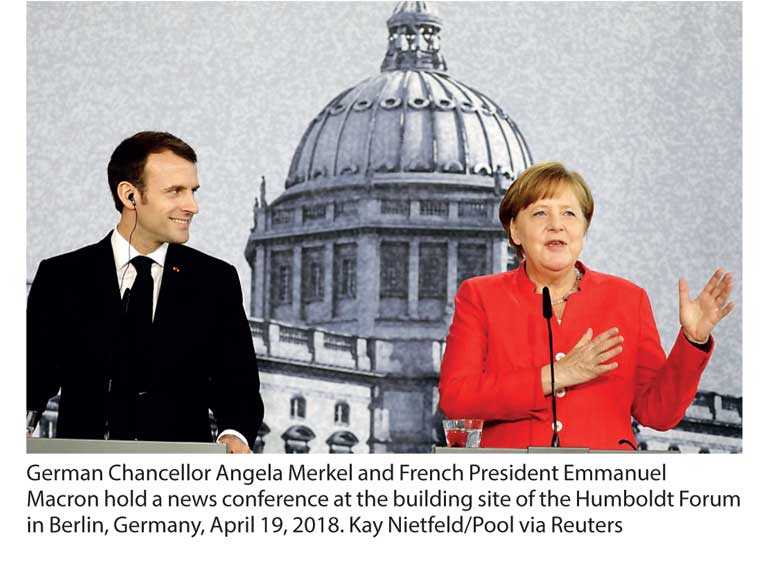 Berlin (Reuters): Chancellor Angela Merkel called for a spirit of compromise on reforming the euro zone at a meeting on Thursday with French President Emmanuel Macron, who pressed for solidarity among members of the currency union.

Before starting talks, the two leaders said they would present a united front at June meeting of European Union leaders on reforming the 19-member euro zone, which Merkel said they agreed was "not yet sufficiently crisis-proof".

Their meeting took place against a backdrop of grumbling by lawmakers from Merkel's conservative bloc, who are wary that Macron's call for more solidarity in the euro zone could see German taxpayers' money used to fund profligate member states.

"No monetary union can exist without elements of convergence," the French leader told a news conference with Merkel in the German capital before their talks.

"The most important thing is not to react on such and such instrument at this stage, but to be sure that we share the same goals and to have a joint political objective," he added.

Macron's vision includes turning Europe's existing bailout fund into a European Monetary Fund (EMF), to act as a buffer in any future financial crises in the bloc, which was nearly torn apart in a debt crisis that took hold in 2009.

He has also suggested the euro zone have its own finance minister and, at one point, floated the idea of a budget for the currency bloc worth hundreds of billions of euros.

Germany's Social Democrats (SPD), Merkel's junior coalition partner, sympathise with Macron's call for solidarity. They want him to be rewarded for efforts to reform the French economy, well aware that a big chunk of French voters remain susceptible to far-right and far-left populists sceptical about the EU.

But Merkel's larger conservative bloc insists on what they call the principle of 'liability', whereby individual member states carry responsibility for their own economic risks.

Stressing the need for compromise, Merkel said solidarity and liability must be linked: "We need debates, open debates, and in the end we also need the ability to compromise."

France and Germany, which account for around 50% of euro zone output, are essential to the reform drive. But while they often put on a strong show of political unity and shared intent, the devil is frequently in the detail.
EU door now shut to Britain for good, Hollande says
Paris (Reuters): The door to the European Union is now closed to Britain and Europeans should not accept any attempt to reverse Brexit, former French President Francois Hollande warned in an interview with Britain's Daily Telegraph published on Thursday.

"It's shut. The vote has taken place and nobody can question it," he said, dismissing attempts by the Remain camp to do so. "One cannot open a negotiation thinking that there is any way out other than leaving," he was quoted as saying.

"The worst thing would be for overly long discussions (on Brexit) to prevent the EU from moving forward and for doubt to set in about the irrevocable nature of Brexit."

The former Socialist leader, who ruled France during the 2016 Brexit referendum and until May last year, has recently come out of self-imposed silence to promote his memoires and step up his criticism of his successor, Emmanuel Macron.

Although Hollande's hardline view on Brexit echoes that expressed privately by French diplomats, Macron has been careful to keep the door open to Britain changing its mind on Brexit.

On Tuesday, the 40-year old leader told EU lawmakers that the best way for Britain to maintain a strong trade relationship with Europe would be to remain an EU member.

In the Telegraph, Hollande said Europe had been generous enough in its handling of David Cameron's demand for a renegotiation of the terms of Britain's EU membership, but that his mistake had been to call a vote at all.

"We all made efforts to give Prime Minister David Cameron the conditions to enable him to go the British people and convince them (to stay)," Hollande was quoted as saying.

"If I have one lesson to take away, it is that referendums are boomerangs," he said.