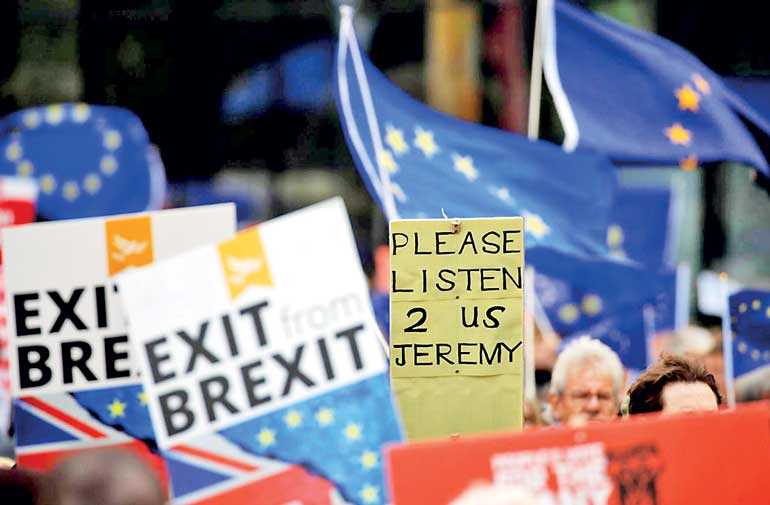 LIVERPOOL, England (Reuters): Opposition Labour Party will vote this week to keep a second Brexit referendum on the table if Theresa May fails to pass her plan to quit the European Union through parliament, heaping pressure on a struggling prime minister.

After May's plans for Brexit – the biggest shift in British policy for more than four decades - were rebuffed by the EU on Thursday, the outcome of talks to leave are more uncertain than ever and have boosted those who want to stop the divorce.

Labour leader Jeremy Corbyn has been reluctant to support behind growing demands for a second referendum, or People's Vote, but the motion agreed by members after more than five hours of debate may satisfy both sides of the party's divide.

Labour agreed late on Sunday night the party will vote on Tuesday on a motion committing the party to support "all options remaining on the table, including campaigning for a public vote" if no election is triggered by May's Brexit plans.

Earlier, Corbyn had spurred hopes among those campaigning for a second referendum when he said he would back such a vote if his party voted to pursue the move.

But for his backers, the motion does little to change his position that Labour prefers a general election to a second vote, which will ask a different question from the one posed at the 2016 referendum which showed a narrow margin for leave. Corbyn's second in command, finance spokesman John McDonnell repeated that Labour was getting ready for an election.

"We believe general election is the best solution because people can then have a wide-ranging debate and also then choose the team that would then do the negotiations," McDonnell told Sky News.

He said a second referendum would be on the deal itself rather than a repeat of the question posed in 2016, whether to remain in the EU or to leave.

Britain is to exit the EU in March next year after months of talks that have again exposed the deep divides in both the country's main parties – the Conservatives are all but at war with each other and Labour is also at odds over how to leave.