TOKYO (Reuters): Japanese Prime Minister Shinzo Abe announced on Sunday his candidacy for a ruling Liberal Democratic Party (LDP) leadership election that he is expected to win despite flat ratings and low expectations for his economic policies.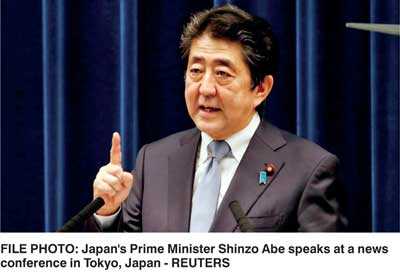 The expected victory over ex-Defence Minister Shigeru Ishiba in the 20 September party poll would put him on track to become Japan's longest-serving premier. The winner becomes prime minister due to the LDP-led coalition's grip on Parliament.

"It is my responsibility to respond to the mandate of the people," Abe told reporters during a trip to south-western Japan. "I am resolved to steer Japan for another three years as LDP president and prime minister."

Analysts say Abe looks set to hold onto the top job because his near six years in power have enabled him to woo LDP backers with Cabinet posts and other favours, and to shut out rivals, while a weak Opposition makes his lukewarm popularity among the electorate less relevant.

Abe began a second stint as prime minister in 2012, promising to reboot the deflation-plagued economy with his 'Abenomics' policies and to bolster defence. He has boosted defence spending and loosened constitutional limits on the military but, on the economic side, the Bank of Japan has failed to reach its 2% inflation target despite an ultra-loose policy.

What Abe will pursue if he wins the vote and extends his tenure as prime minister is far from clear.

"What is the economic agenda? The answer is stability. Don't rock the boat," said equities fund WisdomTree Japan Head Jesper Koll.

On the security front, Abe wants to revise the post-war constitution's pacifist Article 9 to clarify the ambiguous status of Japan's military. The article, if taken literally, bans maintenance of armed forces but it has been interpreted to allow a military for self-defence.

Abe is not wildly popular, although his ratings have recovered from lows of about 30% earlier this year amid accusations of cronyism scandals. He has denied wrongdoing.