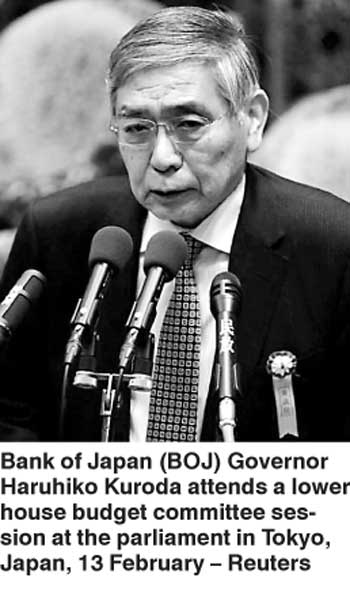 TOKYO (Reuters): Japan's central bank chief said on Friday it would consider ending ultra-loose monetary policy if inflation hits its target during the year ending in March 2020, in comments that sent the yen higher and triggered a bond sell-off.

"The BOJ's board members expect that prices will reach 2% around fiscal 2019. If this happens, there's no doubt that we will consider and debate an exit," Bank of Japan Governor Haruhiko Kuroda told parliament.

The dollar fell against the yen and Japanese government bond prices slipped following the remark, which triggered market expectations the BOJ would follow in the footsteps of its major peers in whittling down crisis-mode monetary stimulus earlier than expected.

"The market has been very sensitive about the BOJ's exit from ultra-easy policy," said Norihiro Fujito, senior investment strategist at Mitsubishi UFJ Morgan Stanley Securities. "Until now, the BOJ did not comment on exiting, but since it was reported that he commented on exiting, the market was startled."

Kuroda stressed the BOJ's resolve to maintain its massive stimulus program for now, with inflation distant from its 2% target.

But he added the BOJ could adjust its yield targets flexibly and won't stick to ultra-loose policy forever.

"If economic conditions become favourable and our price target is achieved, we will normalize monetary policy," he said.

Kuroda, who has been nominated by the government to serve another five-year term after his current one ends in April, made the comments during a confirmation hearing at the lower house of parliament on Friday.

The nomination needs approval by both chambers of parliament, which is a near certainty as Prime Minister Shinzo Abe's governing coalition holds a comfortable majority.

"If comments are to be taken for face value, it spells a major turning point in BOJ policy," said Daisuke Karakama, senior market economist at Mizuho Bank in Tokyo.

Under a policy adopted in 2016, the BOJ guides short-term interest rates at minus 0.1% and the 10-year government bond yield around zero percent.

With prolonged easing straining bank margins, some analysts have called on the BOJ to raise rates before inflation hits 2%, arguing that it was too high a level to aim for in a country that has suffered from two decades of deflation.

Kuroda said the BOJ could debate an exit strategy from its ultra-loose policy and communicate its plan with markets when the appropriate time comes.

But he said now was not the time to push for an exit with inflation still distant from the BOJ's target.

"It has become clear that changing public perceptions on price moves will take time," Kuroda said.

"We'd like to guide policy with utmost focus on meeting our price target, mindful of recent debate on the impact of our policy on the BOJ's finances and an exit strategy," he said.