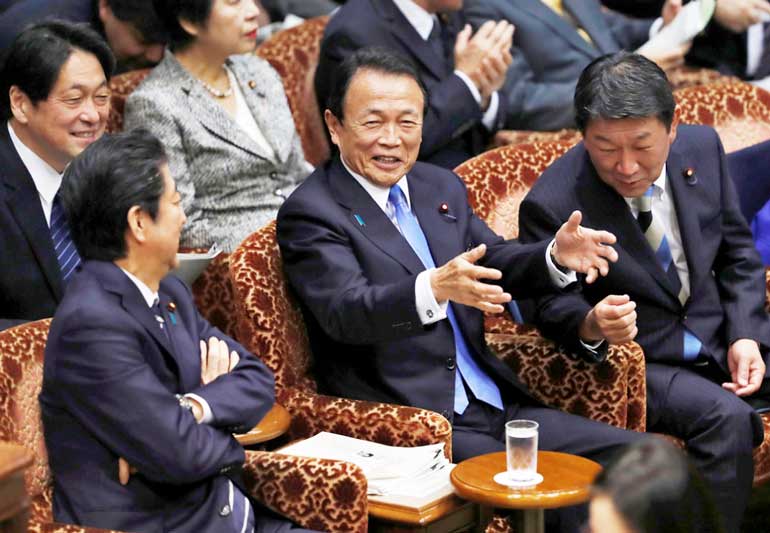 Japan's Finance Minister Taro Aso interacts with Prime Minister Shinzo Abe, Economy Minister Toshimitsu Motegi and Defense Minister Itsunori Onodera during an upper house parliamentary session in Tokyo, Japan March 28, 2018 - REUTERS
Fears of trade war mounts after US tariffs
Japan resists US calls for entering FTA talks
Trade imbalance should be tackled by multilateral framework -Aso
TOKYO (Reuters) - Finance Minister Taro Aso said on Friday that Japan must avoid entering a free trade agreement (FTA) with the United States to rectify trade imbalances.

Fears of a trade war have mounted this month as U.S. President Donald Trump's administration imposed tariffs on steel and aluminum imports and unveiled plans to slap tariffs on up to $60 billion of imports from China.

Japan and the United States are at loggerheads on how to frame future trade talks, with Tokyo resisting U.S. calls to enter negotiations for a bilateral FTA that could force Japan to open its highly protected agricultural markets.

Aso, who leads Tokyo's delegation for U.S.-Japan economic dialogue, said Japan supports the global trend of promoting multilateral trade frameworks.

The recent signing of the Trans-Pacific Partnership free trade deal was a significant development even without the participation of the United States, Aso told reporters after a cabinet meeting.

"We want to avoid falling into a bilateral deal" with the United States in exchange for exemptions from steel and aluminum tariffs, Aso said.

Japan has been pushing for exemptions from U.S. tariffs on steel and aluminum imports, with little success.

Japan believes that U.S. trade deficits should be tackled by global trade partners as a whole, not just by bilateral framework, Aso said.

The United States has agreed with South Korea to revise their trade pact with a side deal to deter competitive currency devaluation by Seoul and with concessions for U.S. autos and pharmaceutical companies.

Some analysts say the agreement could set precedence for U.S. trade deals with other countries, which would be a headache for Japanese policymakers keen to avoid bilateral FTA talks and a spike in the yen.