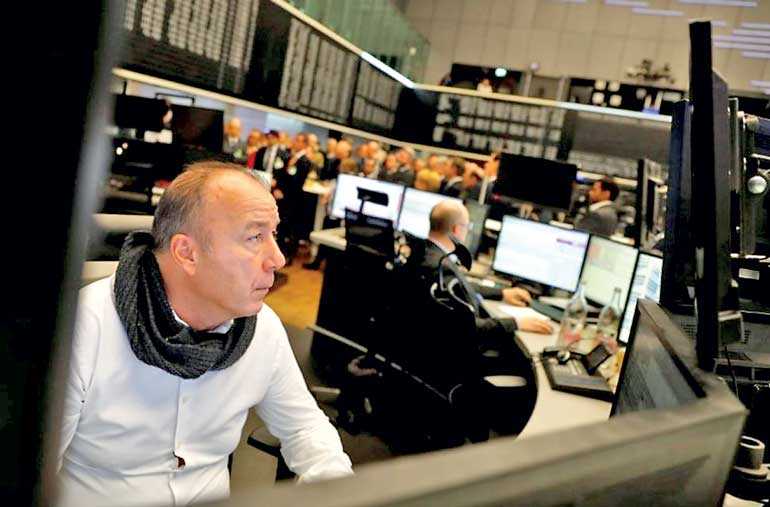 A share trader checks his screens at the stock exchange in Frankfurt, Germany, 20 November 2017 – Reuters
MILAN (Reuters): Relief over Moody's decision to keep Italy's sovereign rating outlook stable helped European equities snap a three-day losing streak on Monday as global equities were buoyed by hopes of stimulus from China.

The pan-European STOXX 600 index rose 0.2% by 0828 GMT after the rating firm on Friday cut Italy's rating to one notch above junk status because of concerns over government budget plans, but said the outlook was stable.

The stable outlook sparked a rally in Italian government bonds as investors priced lower risks of a junk rating for Italy, a prospect that would trigger some fund managers to sell their holdings of Italian debt.

Italian banks, heavily exposed to government bonds and hit hard by worries over Rome's spending plans, were the biggest beneficiaries of Moody's move. Their index rose 3.6% at one point before paring gains.

Investors were hopeful that S&P will not downgrade Italy on Friday while concerns that the EU Commision would reject the Italian budget remained. Despite the broader bounce in Italian bank shares, Credit Suisse sounded downbeat.

"We turn more negative on Italian banks despite their recent derating as sovereign spread volatility looks set to continue amid clashes with Brussels on the budget law and potential additional sovereign rating downgrades," analysts at the Swiss bank led by Carlo Tommaselli said.

"The Italian government appears to be counting on the European elections in Q219 to overcome resistance from Brussels – a strategy we believe is fraught with high execution risk," they added.

They downgraded Intesa Sanpaolo to neutral and Banco BMP to underperform. Elsewhere, autos .SXAP were also in demand with Fiat Chrysler gaining 5.5% after the Italo-American car maker agreed to sell its Magneti Marelli unit in a 6.2-billion-euro ($7.1 billion) deal.

"While it is no secret that FCA has been intending to separate Marelli from its core business, both the structure of the transaction... and the valuation are net positives for investors in our view," said analysts at Evercore ISI said.

A pledge from German Chancellor Angela Merkel to ward off diesel driving bans gave support to German carmakers. BMW, Volkswagen and Daimler all rose about 1%.

Salvatore Ferragamo topped the leader board in Milan, rising 7.9% and hitting a one-month high after Wanda Ferragamo, the honorary president and shareholder of the Italian shoemaker, died at the age of 96.

Jefferies analysts said the passing of Wanda Ferragamo opened up potentially interesting scenarios, noting that she held the voting rights in the company that still have to be allocated.

"Whilst we still see M+A as a medium-term option, the shareholder changes will focus minds on possible developments here," they said. Philips was a weak spot, down 5.2%, after core profit growth at the Dutch healthcare technology company missed analyst estimated, partly due to currency headwinds.

Ryanair rose 3.2% even after it reported a 7% fall in profit during its key April-September season on Monday and said European short-haul airfares would remain soft this winter. Traders said there were no negative surprises in the airline's results following the recent profit warning.