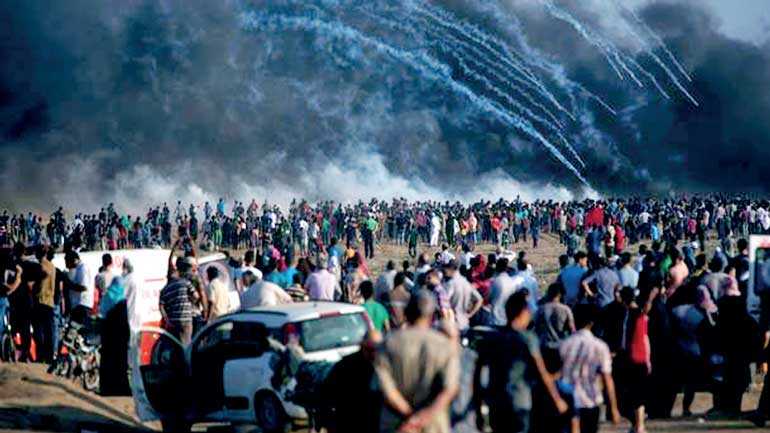 Teargas canisters fired by Israeli troops fall over Palestinians during a protest at the Gaza Strip's border with Israel – AP
Gaza-Israel Border (Reuters): Israel and Gaza militant groups agreed a ceasefire on 14 July, a Palestinian official said, after Israel launched dozens of air strikes against the Palestinian enclave's ruling Hamas group and gunmen fired more than 100 rockets across the border.

But several hours after the announcement, the Israeli military said Palestinians fired two mortar bombs towards Israel and that it responded by striking the weapon used in the attack in the southern Gaza Strip. There were no immediate reports of any casualties.

Palestinian health officials said earlier that two teenagers had been killed by one air strike in what was one of the worst flare-ups since the 2014 Israel-Gaza war. A spokesman for Israeli Prime Minister Benjamin Netanyahu did not respond to a request for comment.

Hamas spokesman Fawzi Barhoum told Reuters: "Efforts by many parties have continued since the beginning of the escalation and the Israeli bombardment on Gaza. They were crowned by the success of the Egyptian effort to restore calm and end the escalation."

The Palestinian Islamic Jihad militant group said in a separate statement that a truce had been reached.

A senior Israeli defence official said: "Only the facts on the ground will dictate our further response." The surge in violence followed mounting public criticism of Netanyahu over failure to counter a new Palestinian tactic: incendiary kites and balloons launched from Gaza that have burned crops and scrubland in southern Israel. Two Palestinian teenagers were killed on 14 July, Gaza health officials said, in one of more than 40 air strikes carried out in Gaza by the Israeli military since 13 July.

The military said some 100 rockets were launched from Gaza at southern Israel, where many residents have reinforced rooms in their homes but only seconds to reach them between the time sirens blare and missiles land.

Some of the projectiles were intercepted by Israel's Iron Dome system, but police said three people had been wounded in the southern town of Sderot.

"After consultations with the defence minister, the chief of staff and Israel's top defence officials, we decided on powerful action against Hamas terrorism," Netanyahu said in a video statement. "The Israeli armed forces delivered the strongest blow against Hamas since (the 2014 Gaza war) and we will increase the intensity of our attacks as necessary."

But Intelligence Minister Israel Katz said the Israeli attacks should not be seen as the start of a military campaign against the Palestinian territory of 2 million, devastated by seven weeks of war with Israel four years ago.

"We are not in a (military) operation. The activity we are engaged in now sends a message that Israel will not tolerate rockets, explosive devices, mortar bombs or (incendiary) kites," Katz said on Israel's Channel 12 TV. "The action we are taking draws a clear red line: that from now on, we will not allow this."

Blasts from Israel's air strikes shook homes and shattered windows in Gaza, where plumes of smoke rose from the sites of the explosions.