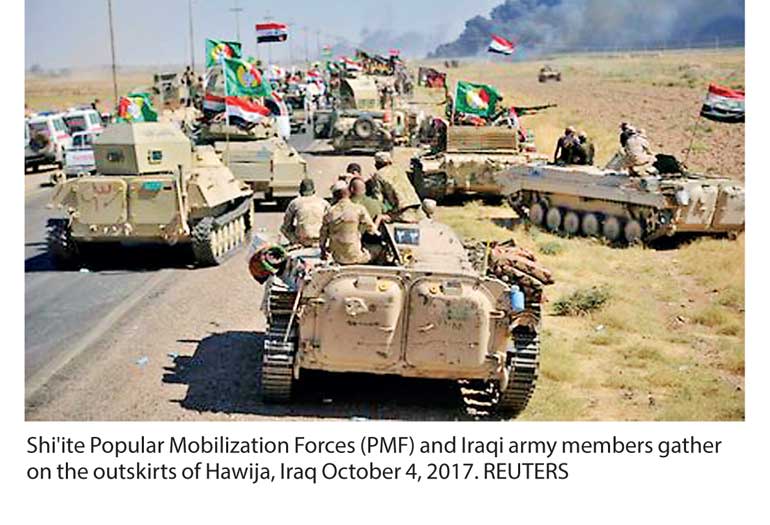 Baghdad (Reuters): Iraqi forces announced on Thursday they had captured Islamic State's last stronghold in northern Iraq, leaving the militant group holed up near the Syrian border as its self-proclaimed "caliphate" shrinks further.

The town of Hawija and the surrounding areas fell in an offensive by US-backed Iraqi government troops and Iranian-trained and armed Shi'ite paramilitary groups known as Popular Mobilisation. Some fighting took place to the north and east of the town where the militants were surrounded.

With the fall of Hawija, which lies near the Kurdish-held oil city of Kirkuk, the only area that remains under control of Islamic State in Iraq is a stretch alongside the western border with Syria, where the militant group is also in retreat.

The capture of Hawija was a boost for the Iraqi government, which faces a separate crisis in the north of the country, where the Kurdish minority last month voted overwhelmingly in support of independence for their autonomous region.

In Hawija, state TV showed footage of Iraqi forces raising flags in one of the town's squares while Humvees patrolled empty streets littered with car wrecks, houses riddled with bullets and shattered storefronts.

"The army's 9th armoured division, the Federal Police, the Emergency Response division and ... Popular Mobilisation liberated Hawija," said a statement from the joint operations commander, Lieutenant-General Abdul Ameer Rasheed Yarallah.

Thick black smoke rose from areas surrounding Hawija, from oil wells set on fire by the militants to prevent air detection.

The capture of Hawija brings Iraqi forces into direct contact with Kurdish Peshmerga fighters who control Kirkuk, a multi-ethnic region claimed by both Baghdad and the Kurdistan Regional Government (KRG).

Kirkuk shaped up as a flashpoint last month when the KRG included the city in the referendum on Kurdish independence in northern Iraq.