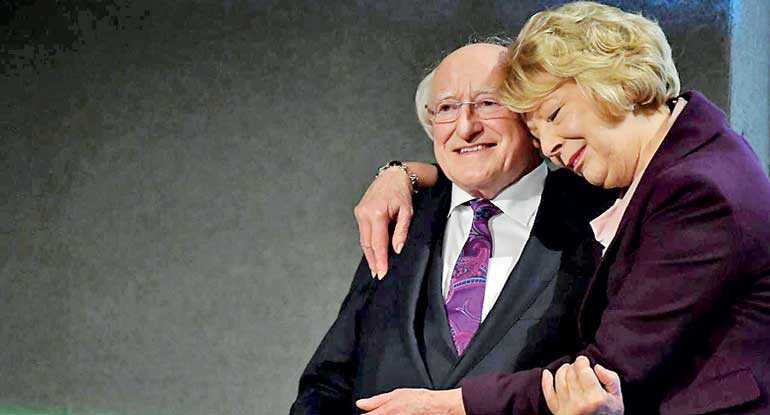 Ireland's President Michael D. Higgins is declared elected and congratulated by his wife Sabina Higgins during the announcement of the results of the Irish presidential elections in Dublin, Ireland, October - REUTERS
DUBLIN (Reuters): Ireland re-elected its president for a second term, official results showed on Saturday, despite a surge in support for the runner-up after controversial comments targeted at the Irish Traveller ethnic minority.

Michael D. Higgins, a left-wing former arts minister who enjoyed the support of three of the four largest political parties, easily won re-election to the largely ceremonial role with 56% of the vote, the electoral commission said.

Media coverage had focused on the surge in support for independent businessman Peter Casey, who came second with 23% of the vote, up from 2% in an opinion poll just days earlier.

Commentators linked the surge to his comments on Irish Travellers, one of the most marginalised groups in society, who he said did not pay their fair share of taxes and generally camped on other people's land.

Traveller advocacy group Pavee Point said the surge should send out a warning to the Irish political system, one of the few in Europe that has not experienced a surge in far-right political parties in recent years.

"It is important that we also do not gloss over the fact that one candidate sought to exploit prejudice against a small and marginalised community," the group said in a statement welcoming Higgins' re-election.

Casey on Saturday told journalists he did not believe the comments were responsible for the surge in support and said they could not be racist as he did not regard Travellers as a different race.

Irish voters also looked set to remove the offence of blasphemy from the constitution in a referendum held alongside the election. Exit polls and early results indicated the measure had been backed by more than two-thirds of voters.