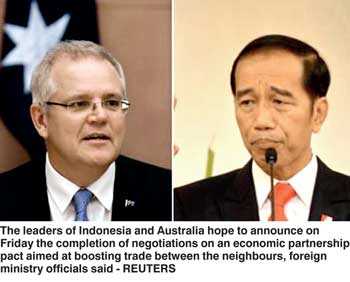 JAKARTA (Reuters): The leaders of Indonesia and Australia hope to announce on Friday the completion of negotiations on an economic partnership pact aimed at boosting trade between the neighbours, foreign ministry officials said.

Australia's new prime minister, Scott Morrison, will meet President Joko Widodo at the Bogor palace south of Jakarta on his first overseas trip since taking office last week after winning an internal party leadership challenge.

Occasionally rocky ties between the two countries have warmed recently, with Australia's former prime minister, Malcolm Turnbull, appearing to enjoy a good rapport with Widodo.

"This is good momentum because everywhere else in the world we are seeing a rise in protectionism," Indonesian foreign ministry spokesman Arrmanatha Nasir told a briefing, calling the pact a "win-win solution" for the two countries.

Director for East Asia and Pacific Edi Yusuf said the two sides hoped to finalise negotiations on the Indonesia Australia Comprehensive Economic Partnership Agreement (CEPA) later on Wednesday.

The CEPA covers not just free trade pacts in goods, but also services and rules on investment as well as intellectual property, Yusuf said.

The agreement will free up Indonesia's university sector for Australian investors, allowing up to 67 percent foreign ownership, Yusuf said. Foreign investors are currently barred from majority ownership in an Indonesian university.

Trade ministry official Imam Pambagyo said teams from the two countries were working "expeditiously to conclude negotiations".

"Many gaps have been closed while a few remaining gaps look quite possible to be closed as well," said Pambagyo, the ministry's director general of international trade negotiations.

The deal, which has been discussed since 2012 and was initially due to be completed last year, should be signed later in 2018 after a legal vetting of documents, he added. Indonesian officials declined to divulge further details, but media reports said rules on farm goods, such as Australian cattle exports to Indonesia, could be revised. Despite being close geographically, Australia was only the 14th-biggest buyer of Indonesian products in 2017, while Indonesia was the 10th-largest export destination for Australia, International Monetary Fund data shows.

Indonesian data shows two-way trade was worth $8.5 billion in 2017, with a deficit of $3.5 billion on Indonesia's side.

Measures to boost exports, such as securing market access for Indonesian products through FTAs, are a priority for Widodo's government as it tries to support a sliding rupiah currency.

Morrison and Widodo are also expected to sign a strategic comprehensive partnership and pacts on transport cooperation, creative economy efforts and cyber technology.