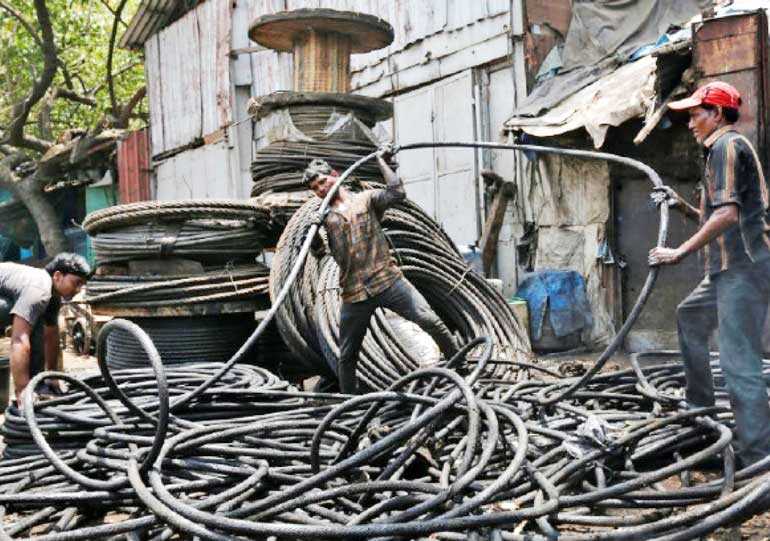 Workers roll used steel cables after repairing them at an industrial area in Mumba - REUTERS
NEW DELHI (Reuters): India's industrial output growth slowed to a five-month low of 4.4% in March, dragged down by smaller increases in mining, but the central bank is expected to hold interest rates in its next policy meeting amid growing inflation concerns.

Economists surveyed by Reuters had forecast 5.9% growth in output compared with a downward revised 7.0% annual increase in February.

Annual output growth was 4.3% during the fiscal year that ended in March 2018, lower than 4.6% in the previous year, data released on Friday by the Ministry of Statistics shows.

Manufacturing, which contributes 78% of industrial output, grew 4.5% last fiscal year, up from 4.4% a year ago, as big companies adjust following teething troubles with a national Goods and Services Tax launched last year.

The Reserve Bank of India, which is due to hold its next policy meeting on June 6, is widely expected to hold rates after having kept policy rates unchanged for the fourth straight meeting in April.

The biggest risk that Asia's third-largest economy faces is rising crude oil prices, which hit $78 a barrel on Thursday, their highest since November 2014 following prospects of new US sanctions on Iran.

India meets 80% of its oil needs from imports.

Analysts said companies with significant transport costs could trim expansion plans as subdued rural demand hits economic growth. But foreign investors still have faith in India's growth prospects.

Prime Minister Narendra Modi, who is expected to try for a second term in general elections next year, has taken several steps to attract investments.

Last week, Walmart Inc announced plans to acquire a majority stake in India's e-commerce firm Flipkart by paying $16 billion, the US retailer's largest-ever deal, a sign of confidence among investors in India's growth story.

Modi plans to spend 5.97 trillion rupees ($89.7 billion) on infrastructure in the 2018/19 fiscal year, more than three times what was allocated in 2014/15.

The government expects the $2.5-trillion economy could grow more than 7% in the current fiscal year that began in April, up from an estimated 6.6% the previous year.