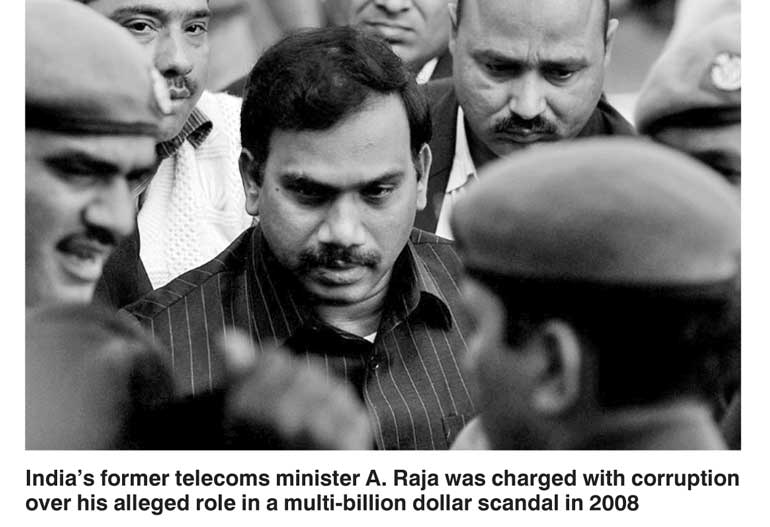 AFP: India's former telecoms minister was cleared Thursday of his alleged role in a multi-billion dollar fraud that ballooned into one of the country's biggest-ever political scandals.

A special court in New Delhi acquitted A. Raja of corruption and also dropped charges against a slew of other bureaucrats and corporate executives implicated in the 2008 scandal that cost the state billions in lost revenue.

Judge O. P. Saini said India's federal investigators, who brought the explosive charges against the high-profile defendants, could not prove allegations of criminality.

"I have absolutely no hesitation in holding that (the) prosecution has miserably failed to prove any charge against any accused," Saini told a packed courtroom.

Raja, who appeared in court alongside the other accused, waved and smiled after the verdict as his supporters let off firecrackers outside.

The Central Bureau of Investigation (CBI), which brought the case, said it would appeal the judgement in the Delhi High Court.

"The court has not appreciated (the) evidence in proper perspective. The CBI will be taking necessary legal remedies in the matter," spokesman Abhishek Dayal told reporters.

The so-called "2G spectrum scam" came to light in 2010 when a government auditor estimated it cost the treasury as much as $39 billion in lost revenues – equal to India's defence budget.

India's then-ruling Congress party was accused of under-pricing licenses and favouring certain firms, seriously damaging the administration of former prime minister Manmohan Singh.

In 2012, India's top court cancelled 122 licenses for eight firms amid allegations of bribery and wholesale fraud.

Time Magazine in 2011 included the scam on a list of historic scandals alongside "Watergate", which brought down US president Richard Nixon in 1974.