Berlin (Reuters): German Foreign Minister Heiko Maas wants to resume dialogue with Russia and gradually improve ties after diplomatic expulsions over a nerve agent attack on a former Russian spy in England that Britain blames on Russia, he said on Sunday.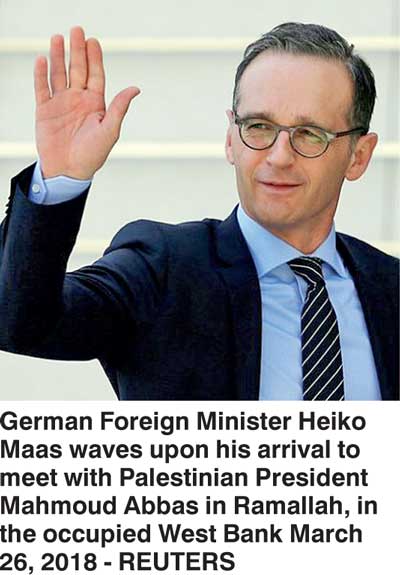 Conservative German Chancellor Angela Merkel and Maas have joined the United States and other European countries in standing with Britain in a major standoff over the attack on former double agent Sergei Skripal and his daughter.

Maas, a member of the Social Democrats (SPD) who are split on how tough to be on Moscow, told Bild am Sonntag much trust had been lost in the last few years due to Russia's behaviour.

"At the same time, we need Russia as a partner to settle regional conflicts, for disarmament and as an important pillar of multilateralism," he was quoted as saying in the paper.

"We are therefore open for dialogue and are trying to rebuild trust bit by bit if Russia is ready."

He also, however, defended the decision to expel diplomats. "to show solidarity with Britain but also as a signal of unity".

In the last week, as part of mass expulsions on both sides, Germany expelled four Russian diplomats and Moscow has reciprocated with the same number, prompting talk of a crisis in relations between Russia and the West.

Some Social Democrats have urged the 'grand coalition' of their party and Merkel's conservatives to ensure a new Cold War does not start, and business groups are also worried.

Germany relies on Russia for roughly a third of the gas it uses and, before Western states imposed sanctions on Russia over its role in the Ukraine crisis, Europe's biggest economy exported about 38 billion euros of goods to Russia. London accuses Moscow of being responsible for the first known use of a military-grade nerve agent on European soil since World War Two and Germany has repeatedly called on Moscow to cooperate more with the investigations.