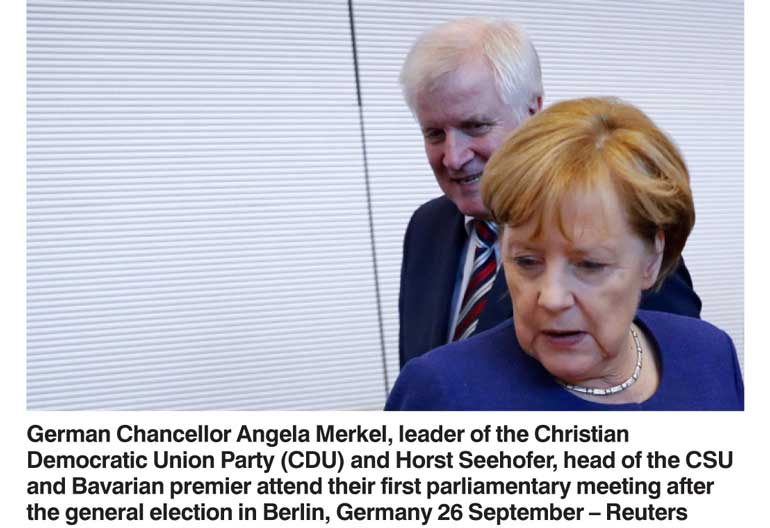 Berlin (Reuters): The leader of Germany's liberal Free Democrats (FDP) said his party will only join an alliance with Chancellor Angela Merkel if there is a change in the direction of government policy.

Merkel's conservative bloc remained the largest parliamentary bloc after Sunday's national election but bled support to the far-right. With coalition talks set to get underway, her only realistic option now is a tie-up with the FDP and the environmentalist Greens.

But the FDP and the Greens disagree on issues from energy to tax, Europe and migration, complicating the path to any deal on forming a so-called 'Jamaica' coalition - a reference to the parties' respective colors black, yellow and green.

Further complicating matters, Merkel's conservative bloc compromises two parties her Christian Democrats (CDU) and their Bavarian allies, the Christian Social Union (CDU), who are shaping up as an obstacle to a coalition deal.

"Some people are glorifying Jamaica as a romantic political project," FDP leader Christian Lindner told Die Welt daily.

"The truth is, there is an arithmetical majority, but the four parties each have their own election mandates. Whether these can be allied without contradiction and in the interests of the country remains to be seen," he added.

"Politics is not mathematics," he said, adding that if in doubt, his party would remain in opposition.

"Everyone must know that the Free Democrats will only join a coalition if there is a change of course in German politics."

Policy on Europe is one area where the FDP differs from Merkel's conservatives and the Greens, though the Free Democrats have made some conciliatory noises since Sunday's election.

The FDP favors a "multi-speed Europe" - differentiating a northern core of fiscally disciplined, wealthy member states from the rest. By contrast, the Greens say in their party program they reject a division of Europe.

Lindner, who said during the election campaign that Greece should leave the euro, said on Monday his party could not agree to a common euro zone budget that would help redress economic imbalances within the bloc.