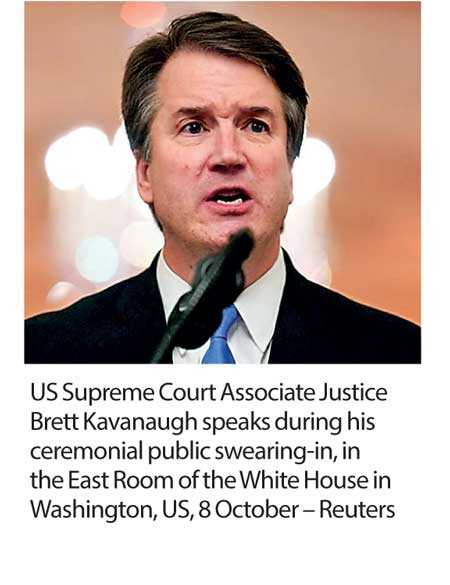 WASHINGTON (Reuters): Just three days after he was narrowly confirmed to the US Supreme Court despite facing allegations of sexual assault, Brett Kavanaugh took his seat on the bench on Tuesday morning, solidifying a conservative majority for years to come.

Kavanaugh, 53, joined the eight other justices to hear arguments in cases involving a federal criminal sentencing law, bringing the nine-member court back up to full strength after the retirement of Anthony Kennedy in July.

Kavanaugh's confirmation gave Republican President Donald Trump a major victory, with his second lifetime appointee to the nation's highest judicial body. Neil Gorsuch joined the court last year.

The bitterly divided US Senate voted 50-48 on Saturday to confirm Kavanaugh, with just one Democrat supporting him.

Kavanaugh's elevation to the high court had been considered safe until California university professor Christine Blasey Ford went public with explosive allegations that Kavanaugh had sexually assaulted her in 1982, while they were in high school. Two other women also accused Kavanaugh of sexual misconduct.

Kavanaugh denied the allegations and in a blistering partisan attack during a Senate hearing on Sept. 27, accused Democrats of an "orchestrated political hit."

He wrote later in a newspaper opinion piece that he regretted some of his comments, but critics said it raised questions about whether he would treat all who come before him fairly. Hundreds of law professors and even retired Justice John Paul Stevens, a Republican appointee, said Kavanaugh's remarks should disqualify him from the job.

Other analysts said the court's reputation could suffer as it becomes perceived as a political, rather than a legal, institution.

At a White House ceremony on Monday night, Kavanaugh sought to put the confirmation battle behind him, saying he was starting his new job without bitterness.

"Although the Senate confirmation process tested me as it has tested others, it did not change me," he said.