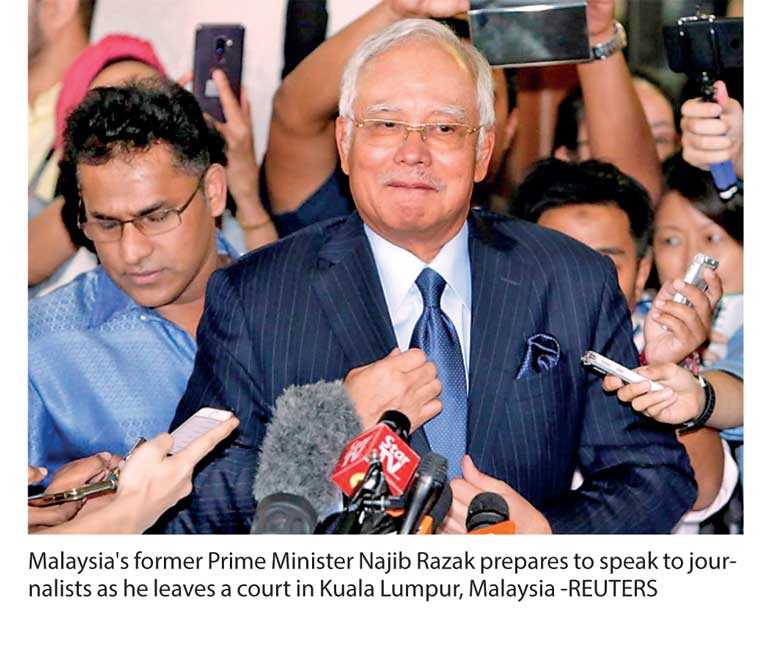 KUALA LUMPUR (Reuters) - Malaysian prosecutors charged former Prime Minister Najib Razak with 21 counts of money laundering and four counts of abuse of power on Thursday over hundreds of millions of dollars received in his personal bank account.

The charges bring the total number against Najib to 32 as investigators ramp up a probe into how billions went missing from scandal-plagued 1Malaysia Development Berhad (1MDB) - a state fund that he founded and chaired.

Najib has pleaded not guilty to all the charges.

Charges have piled up on Najib since he unexpectedly lost a general election in May to Mahathir Mohamad, who reopened the 1MDB investigation.

Prosecutors said Najib used his position as prime minister, finance minister and chairman of 1MDB to obtain funds totalling about 2.3 billion ringgit ($556.23 million) between 2011 and 2014.

Najib has faced money laundering allegations since the Wall Street Journal reported in 2015 that $681 million was transferred to a personal bank account of the then-prime minister.

A year later, the U.S. Department of Justice confirmed the transfer and said the funds originated from 1MDB. It also said a total of $4.5 billion was stolen from the Malaysian fund.

Despite growing calls to step down, he clung to power by cracking down on dissent and the media. But Najib has come under close scrutiny since the election defeat to his former mentor.

Earlier this year, prosecutors brought a total of seven charges, involving money laundering, criminal breach of trust and abuse of power, relating to funds of about 42 million ringgit that allegedly flowed from SRC International, a former 1MDB unit, into his personal bank account.

The SRC trial will begin in February.

1MDB is being investigated by at least six countries, including Singapore, Switzerland and the United States, over alleged money laundering and graft.