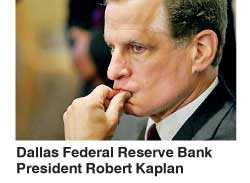 Reuters: Dallas Federal Reserve Bank President Robert Kaplan on Monday forecast falling unemployment, rising wages, and solid economic growth this year and next, but warned that without structural reforms, future growth will suffer.

Policies that increase immigration, allow the US to take advantage of globalisation and trade, reduce government debt growth and boost educational attainment are among changes the US needs, Kaplan said in an essay he published ahead of a speech in Miami.

"Because the near-term outlook for GDP growth is positive, this may lull observers into believing we are on a path to sustained improvement in the economic performance of the US economy," Kaplan wrote.

But growth will fall below 2 percent after next year as the effects of the recent tax and budget stimulus fade and the Fed removes monetary policy accommodation, he said.

Unless steps are taken to reverse underlying headwinds, he added, "We are likely to see sluggish rates of GDP growth in the medium and longer term."

Kaplan's expectation that strong economic growth this year and next will give way in 2020 and beyond to slower growth is widely shared at the Fed, which sets US monetary policy but has no control over fiscal, trade, immigration or education policy. The Trump administration has imposed new tariffs on aluminium and steel and has threatened trade penalties on a much broader spectrum of imports in a bid to pressure China to reduce its trade surplus with the United States. Trump has also cracked down on illegal immigration and said he wants to limit workers coming from abroad.

Kaplan on Monday delivered a forceful defence of trade and warned that because US-born Americans have fewer children than in the past, the economy's labour force will shrink without immigrants and their children.

"We need to come to grips with immigration reform in order to supplement labour force growth in the US," he said.